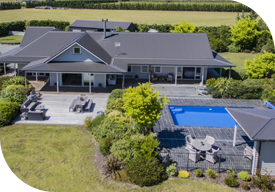 North Canterbury lifestyle property exudes the feel of a farm
November 2018
On the southern fringe of North Canterbury wine country, and in the lee of the Teviot range, which creates its own microclimate untouched by the easterly, Glasnevin is genuinely rural, though within easy reach of all the amenities.
A 16.6 hectare block with a master builder's seven-year old 'own home,' 106 Purchas Road is a generous-sized lifestyle property, says Peter Crean of PGG Wrightson Real Estate, who is selling it.
"There is room here for plenty of options, and because of its size, the property has more of the feel of a farm. At present it is set up for cattle and sheep, with good sets of yards, though the relative lack of frost, more sunshine per annum than Christchurch and excellent irrigation water opens up plenty of other possibilities. With several vineyards as near neighbours, grapes are one obvious opportunity, though the good shelter the property enjoys means hops would also thrive here, which with the growth of craft beer could be an intriguing and rewarding prospect," he said.
Intended by the present owner, a master builder, to be his and his wife's 'forever home,' the approximately 250m² four-bedroom house is situated in a large, sheltered and established setting, with sweeping lawns, at the end of a long, private tree-lined driveway.
"No expense has been spared on this beautiful, well-designed house, which features a large, modern Millbrook kitchen with a walk-in pantry, a built-in fridge/freezer and granite benches.
"In such a lovely rural setting, outdoor living is an important consideration, fully realised here. Around the house, the deck leads onto a generous, well-sheltered in-ground pool, further burnishing the property's exceptional credentials for entertaining.
"All this is set in an outstanding approximately 8000m² garden, where numerous species of trees and shrubs have become well-established and are prospering in just seven years, supported by a trickle irrigation system, demonstrating the productivity of the gentle microclimate and fertile soils that underlie the property," says Peter Crean.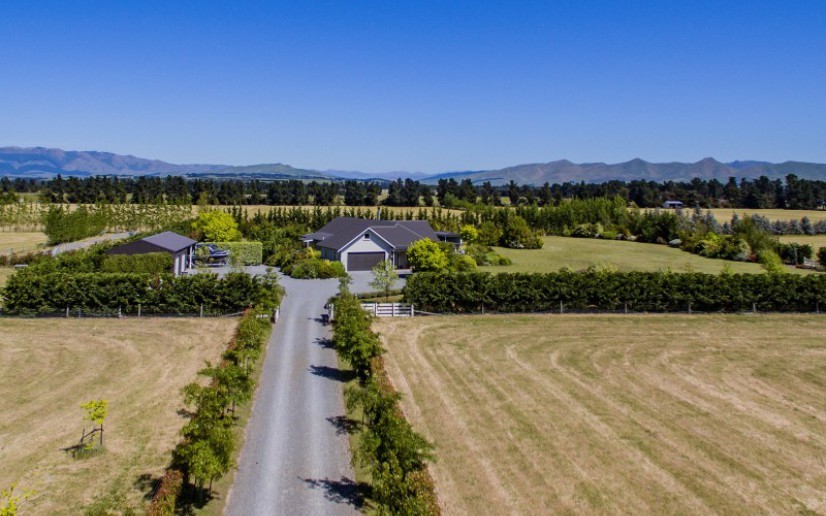 Heating comprises a Contessa logburner with wetback, and a heatpump. Additional luxury extras include double glazing and under-tile bathroom heating. Irrigation water is by way of shares in the local Lime Loader Scheme, providing six litres per second.
Only a few hundred metres off State Highway One, eight kilometres north of Amberley, 33 kilometres north of Rangiora and 53 kilometres north of Belfast, Peter Crean says the property's sense of seclusion belies its proximity to those places.
"Although close to civilisation, this has a real country feel, and would equally well suit retiring farmers seeking to downsize, or a professional family looking for their own patch of North Canterbury rural paradise, enabling a commute back to the city with relative ease. It is a gem of a location, developed with a keen and sensitive eye to its potential, while also offering a new owner plenty of scope to take it further," he says.
◰ View the Purchas Road Property NOW
◰ Read more in our Latest Property Express publication