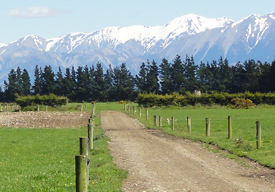 Property Express: Buoyant spring market for North Canterbury sheep and beef farms
September 2020
Several premier North Canterbury sheep and beef properties are offered for spring sale.
Canterbury Real Estate Manager for PGG Wrightson Real Estate, Peter Crean, said a mild winter led to a positive spring, motivating farmers to sell property.
"Most listings are from farming families restructuring or retiring. In spring property looks its best. We have several excellent farms carrying up to 7000 stock units available for genuine sale and plenty of buyers.
"Strong enquiry through the winter has come from within and beyond the farming community. Low interest rates mean anyone with equity is looking for safe investment in shares or land. We are hearing from people motivated to leave the city, as well as North Islanders looking to move south," he said.
Notable listings include Greta Vale north of Greta Valley, a 791 hectare flat to medium country breeding and finishing property in the same family for over 100 years; Dalrachrie Downs, a 258 hectare Broomfield, Amberley farm producing prime lamb overlooking Waipara and Omihi Valley; a 187 hectare Hawarden pivot irrigated farm, suited to finishing or dairy support; a 258 hectare View Hill, Oxford property with subdivision potential and a 190 hectare easy hill property with views over the Waikari and Amuri.
Grant Nordstrom, PGG Wrightson Canterbury Livestock Manager said plenty of feed has given local farmers an encouraging start to the season.
"Although scanning results were back, newborn lambs and calves this year has shown good survivability. However, farmers are wary of overseas markets, particularly due to volatility around Brexit and Covid. While red meat demand is good overall, decreased restaurant trade has hit high end cuts, impacting carcass prices. Challenges around airfreight for the Christmas and chill trade will also factor extra cost into the schedule. Farmers responding to the probable lack of demand for heavyweight lambs are moving stock off farm earlier," he said.
Canterbury/West Coast
Real Estate Manager
M 027 434 4002