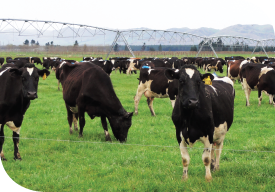 North Island Regional Update: Autumn 2019
March 2019
Northland
Although Northland's summer rural property market featured several good listings, few transactions eventuated, with lack of confidence in the dairy sector accounting for the relatively light activity. Meanwhile, despite returns remaining healthy for red meat, those farmers are not so far motivated to increase their holdings by acquiring additional property. Although there is some interest in land for kiwifruit around Kerikeri, and that sector is particularly positive, this is also yet to result in transactions. For those Northland farms that did sell, local buyers took advantage, with sales to neighbours the most frequent outcome. If slightly increasing activity towards the end of summer is an accurate indicator, purchasers should be a little more forthcoming during the autumn, and sales negotiations may edge closer to completion. Financiers finding greater enthusiasm for dairy would also help re-energise the region's rural property market.
Waikato
When suited to use other than dairy, Waikato rural property came under close scrutiny in the summer, changing hands for elevated values. A three year waiting list for avocado seedlings indicates one land use trend. Drystock properties in the region's sought-after locations strengthened in both value and volume of sales, with the latter approximately 30 per cent ahead of the quantity of sales in summer 2018. In other categories, the market is holding steady, although poorer quality and unfavourably located dairy farms are particularly difficult to sell, unless priced at a level that will sustain economic use as finishing or support blocks. Post-Christmas, inquiry was subdued and few new listings were offered to the market. As those considering selling re-evaluate their options, particularly if they are willing to reduce their value expectations, autumn market activity could increase.
Bay of Plenty, Central Plateau and South Waikato
Kiwifruit sets the tone for Bay of Plenty rural property. Gold orchards in sought after localities are changing hands for $1.2 million per canopy hectare, while green kiwifruit orchards are selling up to $400,000 per canopy hectare, with a premium of an additional $100,000 possible where vines can be cut over and grafted with the gold variety. So long as enough growers offer orchards for sale, activity through the autumn and winter should remain brisk. As in other regions however, demand for dairy property is muted as uncertainty persists around land and water use regulations, while banks reduce their exposure to agriculture, creating a gap between vendor and purchaser pricing expectations. Around Rotorua, demand for drystock farms is lively, though owners of these prefer to retain their properties, increasing their self-sufficiency against the threat of Mycoplasma bovis, leaving willing purchasers unsatisfied.
Lower North Island
Reflecting much of the rest of the country, the summer rural property market in Taranaki, Wanganui, Wairarapa, Manawatu and Horowhenua was busy for sheep and beef, though quiet for dairy. Sales for the former included a 272 hectare Cheltenham, Feilding finishing property, which sold in December for $9.9 million. During autumn, prolonged dry weather may delay the introduction of some properties to the market, possibly delaying marketing campaigns until April and May. Demand for quality lower North Island sheep and beef property remains unmet as those inclined to sell are holding on to make the most of the excellent returns on offer. If that changes, they may live to regret their reluctance to move sooner. Meanwhile, a few fringe dairy properties in Pahiatua and Wairarapa have sold to sheep and beef operators intending to de-commission their dairy sheds.
Hawke's Bay
Hawke's Bay's rural property market progressed well during the summer. Several of the region's sheep and beef farms have sold recently, with firm prices suggesting that confidence in the sector remains strong. This looks set to continue through an active autumn. Local purchasers are to the fore and prepared to pay premium prices to secure land that will increase their holdings. A handful of appealing farms will list for autumn sale. Timoti, a 260 hectare Waimarama breeding property wintering up to 2,500 stock units, is one of several that should be well received by an enthusiastic market where demand exceeds supply. Forestry is underpinning the value of less favoured Hawke's Bay sheep and beef properties with premium values for land suitable for trees, when well-located relative to the port and roading, firming to more than $6,000 per hectare.