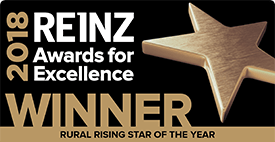 North Otago rural property professional named national 'Rural Rookie of the Year'
August 2018
Oamaru-based David Heffernan began selling North Otago farms for PGG Wrightson Real Estate in January 2017. After completing an excellent first full year in the role at the end of June, his skill as a salesperson was recognised this week with a major national accolade: David was named PGG Wrightson Real Estate, Rural Rookie of the Year 2018 and the Real Estate Institute of New Zealand's 2018 Rural Rising Star of the Year.
He has one word to summarise the approach that has led to his success: Solutions.
"When you are marketing rural property, your role is to match up buyers and sellers. There is no point showing someone a $4 million farm if they only have a $2 million budget. That is just a waste of time for everyone, and will lead to frustration. I've found that, so long as you listen to what buyers and sellers are saying, and can take an inventive approach, you should be able to find a solution that works for all parties," he says.
According to National Sales Manager for PGG Wrightson Real Estate Camron Meade, David Heffernan's award is an excellent achievement.
"In any given year, several dozen new entrants come into the rural property sector nationwide, selling farms for the first time. They only have one opportunity in their career to win this award. For those who do, it is a great launching pad.
"David has an easy-going style that enables him to communicate effectively with farmers. This, coupled with his strong organisational ability and successful history as a farmer in his own right, suggests this is just the start. He can look forward to finding solutions for many North Otago farmers in the future," he said.
East Otago born and raised, David and his wife Rebecca have farmed a 130 hectare irrigated farm in Weston since 2004, which he has continued to run alongside his career marketing rural property.
"Because I am still farming, I still go down to Waiareka Saleyards every Monday, so keep right up to speed with per kilogram rates, schedule pricing, and the other market factors that farmers need to know. I have remained completely in touch with the whole sector, which is necessary when you sell rural property," he says.
Although David has started his real estate career during a relatively quiet period, that hasn't held him back.
"I only know what I know from the past year of operating in the market. If we are in a softer selling cycle, that means you have to look harder to find solutions. Some of the sales I have seen through have been staged settlement deals, which comes back to finding the solution. So long as the vendor has the appetite, it is about matching the 'solution' to the circumstances of each party," he said.
Originally recruited to PGG Wrightson Real Estate by recently retired North Otago Sales Manager Neville Langrish, David has been a client of the company, or its predecessors throughout his farming career.
"PGG Wrightson has an excellent brand, and a great culture. I first started dealing with the company when I was 18, when Neville Langrish, who was the Manager of Stringer and Co at that stage, gave me my first loan to buy cattle. I have been loyal since then, and the company has stood by me. When Neville came to recruit me, I knew the company culture was a strong point. They have always been about backing the person. I knew that if I was ever going into the rural real estate side, I would want to go with a solid brand, and that's the way it has worked out," he says.
Further information contact: