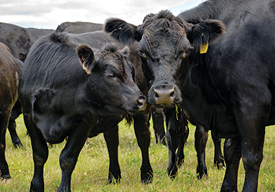 Property Express: Beef country in demand in Northland
September 2020
Northland beef farms sold well during 2019/20. PGG Wrightson Real Estate Northland Manager John Duder said more properties carrying over 3000 stock units sold during the year than any time since 2015.
"Prices are strengthening. However, these remain firmly based on realism, which means this is still a region that delivers excellent value for money to those looking for beef property.
"While interest from elsewhere in the North Island is evident, buyers are mainly existing operators, generally from within the region.
"Prior to last year, a shift away from dairy was occurring, with local dairy farmers going into beef and farms converting. That trend has finished, at least for now, with confidence returning to the dairy sector," he said.
PGG Wrightson Livestock Northland Manager Bernie McGahan said optimism in the region is well-founded.
"Our region is in recovery from last summer's drought. Properties are starting to grow grass, and the markets were strong through late winter and early spring. However, climate is the most important variable. In Northland you have to farm for a drought, expecting it will be dry, and last year was a firm reminder of that. Farmers are still wary of that, and planning accordingly.
"COVID has impacted the market for premium lamb cuts. With nobody in America or Europe eating in restaurants, there is plenty of meat overseas still sitting in containers, which has reduced returns from last year's record highs, though prices for beef remain strong, kept up by local demand.
"We produce some wonderful livestock in Northland. Farmers are using good genetics, and they know how important it is not to lose focus on that, even if the climate and the markets present challenges," he said.
John Duder expects more beef farms will come to the market in the rest of the year.
"Additional listings are indicated through spring, though not sufficient to meet demand. This is certainly a seller's market. Anyone who offers Northland beef property for sale is likely to be well rewarded," he said.
Northland Sales Manager
M 027 281 0654