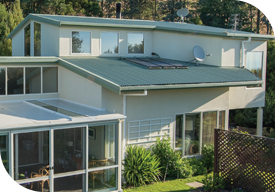 Panoramic Views
March 2019
Ginny Langmuir and Ross Grainger have lived in their Lansdowne Valley home since 2008.
Overlooking a broad stretch of Canterbury, from Pegasus Bay to Mount Hutt, the 47 hectare lifestyle block carries ample evidence of the love and care the couple have lavished on it, in bountiful vegetable gardens and the establishment of many native trees.
As Ginny explains, they first moved to the north facing spot at the western end of Christchurch's Port Hills, from the city's eastern suburbs, to be closer to nature.
"We both love gardening and wanted to make this our own. Although overlooking most of the province feels remote, we found it takes exactly the same time to reach the centre of the city from here as it did from our former home on New Brighton's Marine Parade," she says.
When they first moved they made several changes. "We established two large vegetable gardens, planted fruit trees, fenced off paddocks for livestock and put in tracks so that we could easily access the whole property. We added a conservatory to the house, as well as many other improvements.

"Although we didn't set out to, we have become largely self-sufficient, and now very rarely buy any veges or meat and never buy eggs, producing all we need from the property. Hard frosts are rare up here and we eat from the garden year round. We are able to sustain winter crops, including silverbeet, kale, broad beans, carrots and parsnips and last year we had rhubarb through the winter. Apples do really well, and by careful planting close to the house and facing north, we have established the likes of passionfruit, Tahitian lime and grapefruit," says Ginny.
Since installing panels for both solar power and hot water, their self-sufficiency has taken another step forward, winding their electricity bill right back.
Re-generating the native species that originally grew on the land was another big project for Ginny and Ross. "We have planted thousands of trees, sourcing varieties native to Banks Peninsula. We both took a horticulture course when we first moved in, learning all the different ways to propagate.
Although at first we bought seedlings from the DOC nursery, we now do most of the propagation ourselves, developing a space for growing cuttings and building a propagation shed on the property," she says.
Those efforts are rewarded by the native birds that flock to the property, including a pair of kereru that nest near the house.
"We love to wake up to the dawn chorus, which is actually at its best when camping out in a tent along the creek at the bottom of the property," she says.
Panoramic views are the property's most obvious attraction and on a clear day, with a telescope it is possible to pick out the groomers on Mt Hutt ski field, over 110 kilometres away. Meanwhile, adjoining the Sign of the Bellbird and Kennedy's Bush brings plenty of attractive walks into easy reach.
Difficult though it has been to decide to leave, with family now settled overseas, and grandchildren providing irresistible motivation, Ginny and Ross recently engaged Karen Hennessy and Sam Davidson of PGG Wrightson Real Estate, Christchurch to sell their much loved home. Karen says the house has great appeal.
"A multi-level, architecturally designed, permanent material, energy efficient, double-glazed family home, built in the 1990s, offers the flexibility to live the good life while enjoying the panoramic views, with an easy commute to the central city. All-day sun, fabulous indoor-outdoor flow to the patios, a recently remodelled kitchen with a large walk-in pantry, along with semi-detached triple car garaging, with attached studio/sleep-out are all features that make this a property that will absolutely delight the right purchaser.
"It offers an excellent and unique combination of space, privacy and lifestyle," says Karen.
Bidding farewell to the views, the solitude, the birds and their cherished garden will be emotional for Ginny and Ross. So will saying goodbye to the Lansdowne Valley community.
"We will certainly miss our wonderful neighbours. There is a group of us whose properties meet in one area and we get together often. Recently we had a picnic dinner together next to a waterfall in the valley. Leaving them will be really hard," says Ginny.