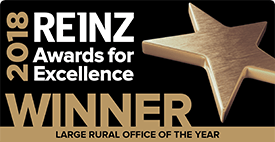 PGG Wrightson Real Estate Tauranga wins third successive REINZ award
August 2018
PGG Wrightson Real Estate's Tauranga branch has won the large rural office category at the 2018 Real Estate Institute of New Zealand (REINZ) awards this week, the third successive year it has taken out this prestigious national title.
Mike McCullough is the company's Bay of Plenty regional sales manager. He said the sustained achievement by the office was down to a team effort by an experienced collection of high performers.
"Horticulture plays an important part in our region, and we have several salespeople who achieve remarkable results marketing kiwifruit and avocado orchards. Stan Robb is well known among kiwifruit growers. He was the supreme salesperson for PGG Wrightson Real Estate this year, an accolade he has won several times in the past. He was also in the top three nationwide for rural property across all companies in the REINZ awards, so has had an exceptional year and contributes strongly to the success of our team.
"Another Tauranga salesperson, Andrew Fowler, is also one of the company's outstanding performers, regularly featuring among the top earners nationwide in both the lifestyle and rural property categories.
"In addition to these two, our team boasts several other immensely experienced salespeople, who have a profound understanding of rural property and numerous connections to the Bay of Plenty's various rural communities. Their strong professional qualities, and ability to find solutions for the buyers and sellers of farms in our region are the basis of the ongoing success of this office," he said.
National Sales Manager for PGG Wrightson Real Estate Camron Meade says the Tauranga office sets the pace for the company.
"Tauranga's enduring success, and the healthy market share the office commands in the Bay of Plenty region, regularly sees them at or around the top when our company acknowledges its most successful performers. While they are on the crest of the wave at present, with horticulture booming, that still requires ongoing hard work, and maintaining excellent relationships with growers, farmers and investors, to ensure that transactions proceed, which is where this team really shines," he said.
Further information: