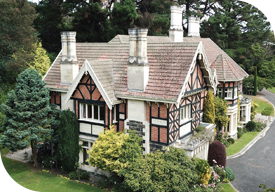 Picturesque and Romantic
April 2019
An historic Dunedin landmark, described as far back as 1906 as the city's 'most picturesque and romantic suburban property,' is for sale.
Bishopgrove is a six bedroom bluestone, brick and timber residence, built between 1881 and 1883 on 4.79 hectares in Woodhaugh, North Dunedin. Constructed for the city's first Anglican Lord Bishop, and now listed by the Historic Places Trust as a category one building. It has been the family home of Richard and Christine Farry since 1985. Christine says they have heartily enjoyed living there, raising five children and hosting numerous functions for family and friends.
"It has been a magnificent family home, first for our children, now when they bring all the grandchildren.
"We have done plenty of entertaining, for family and larger events and the house is an entertainer's dream. One of our daughters had her wedding here, with 180 guests and a marquee for a sit down dinner.
"We have had many happy times. Living here has enhanced our whole experience of family life," she says.
Richard says the peace, sunshine and birdsong make it difficult to leave the house for work in the morning.
"Bishopgrove is walking distance from the university, the hospital and much of Dunedin's CBD.

"Our grandchildren have a wonderful time whenever they come to stay. What is unusual for a stately home, particularly in Dunedin, is that it remains close to its original design. Even so, it has all the modern amenities, including dual system central heating, contemporary plumbing and bathrooms, three-phase underground power and an indoor and outdoor integrated speaker system, plus a large modern kitchen," he says.
Samuel Nevill was the first Anglican Bishop of Dunedin, consecrated in 1871, and Primate of the church in New Zealand from 1904 until 1919. He lived in the home from its construction until his death in 1921. From 1931 to 1971 Bishopgrove was used as the bible college of the Associate Churches of Christ, as Christine explains.
"Many graduates and associates continue to return to this day, drawn back by close ties and fond memories. Prominent among the students were Sir Garfield Todd, former Prime Minister of Southern Rhodesia, and Dr Fred Hollows, the famous eye surgeon, whose work with the disadvantaged is legendary," she says.
Christine's research into Bishopgrove's history also underlines the enduring influence of its original resident.
"Bishop Nevill was a widely travelled man with a love of botany, which explains the origins of the many magnificent trees, past and present. One tree was reputedly the largest kauri in the South Island. Unfortunately it allegedly 'fell over' prior to our family's arrival here.
"There was also a Glastonbury Thorn, reputedly grown from a cutting Dr Nevill acquired from the original thorn tree at Glastonbury Abbey in England. Legend has it that the original tree grew from the staff of St Joseph of Arimathea, which he plunged into the grounds on which the Abbey was built. Many have searched for traces of this tree at Bishopgrove, so far without finding it. However, there is a copy of a letter from the Bishop's widow describing his pride in this tree and its approximate location.
"Legend also surrounds another of the trees, one that we still have, a Cedar of Lebanon. Reputedly, this was also brought here by the Bishop, who acquired a seedling from Lebanon during a visit to the Middle East," she said.
As the Farry family themselves originate from Lebanon, Christine says this tree has a deep and meaningful significance. Birds that share the cedar, and the property's many other trees with the Farrys include wood pigeons, cranes, fantails, tui and paradise ducks.

Bishopgrove's grounds also feature a delightful free flowing stream, says Christine. "Pine Hill Creek flows through the property, fed by a beautiful waterfall. Glow worms abound along its banks, fresh water crayfish and baby trout enjoy its waters. The remnant of an old dam still exists, a reminder of the days before town supply of services such as water and electricity," she says.
Now all their children have left Dunedin, with some reluctance Richard and Christine have engaged Craig Bates of PGG Wrightson Real Estate, Dunedin to list Bishopgrove for sale. He says such a magnificent property speaks for itself.
"This is an exceptional home and property, in a class of its own. While keeping the integrity of its original Victorian era, and respecting that architectural heritage, the Farrys have discreetly incorporated all the modern comforts and amenities, making the house totally practical to live in, enjoy and a pleasure to share with friends and family.
"Add to that, for a genuine lifestyle property, which even comes with two adjoining paddocks, to be such a short distance from the university and only slightly further to the city centre, is remarkable.
"Then take into account the much loved, well maintained grounds, including sweeping lawns, majestic trees, stands of beautiful native bush and Bishopgrove's own two-bedroom Gate Cottage on a separate 4848m2 title, and you have an utterly unique proposition, set to provide new owners with immense family enjoyment and satisfaction for years to come," he said.