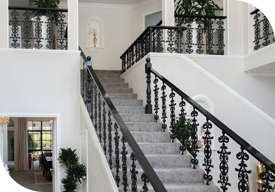 Pillars of the Community
March 2019
Award-winning Taupo bed and breakfast presents as ideal lifestyle business.
Aucklanders, John and Nancy White, drove through Taupo regularly for almost 30 years commenting every time that 'this would be a nice place to live.' After taking on award-winning bed and breakfast business, The Pillars Retreat in early 2017, for the past two years they have been living the dream.
Now, after refining the finer details of the business, and collecting some additional awards, their plans have altered and they are ready to sell.
John says Nancy first spotted The Pillars was for sale.
"When this property first came up, Nancy held on to it for a while. We were looking for something to keep us physically active in retirement from the corporate world. We've always travelled and love meeting new people. We were looking for somewhere we could put roots down.
"Nancy knew as soon as I saw The Pillars, I would end up buying it and she was right. It was exactly what we had always wanted," says John.

Located near the shore of Lake Taupo with views of the bush clad Mt Tauhara, The Pillars is a luxurious Mediterranean styled home, built in the 1980s on 2.07 hectares. As a bed and breakfast, it offers five suites to guests, which are well received, earning many awards, including the Trip Advisor Travellers Choice 2018 plus the same organisation's number one ranking for small New Zealand hotels, and number two world ranking.
John says The Pillars was originally a private home.
"When it was built, the first owners had six daughters. They built an internal slide, in the house, from the first floor balcony, for their girls. Some of our guests think it is a luggage slide, while others walk up the stairs and come down the slide. It does offer extra fun for our younger visitors," he says.
John and Nancy have had plenty of fun themselves with their guests. "We have really enjoyed looking after some super nice people. Several have come back, and when we went on a trip of our own, to Spain last year, we stayed with a couple from Gibraltar who had stayed with us a few months earlier. Meeting new people from around the world is a real pleasure," says John.
They have also made the most of the local community.
"We are good friends with all our neighbours. This is a 1950s style neighbourhood, where everyone looks after each other. We are in love with the property. We have put two years of love into this place and been surrounded by a bunch of really cool people," says John.

For breakfast John and Nancy's guests are served eggs from the Pillars Retreat farm, homemade muesli and yoghurt, and even homemade honey from up to 50 hives they have on the property.
Jil Richardson of PGG Wrightson Real Estate, Taupo sold John and Nancy The Pillars, and is now offering the property to the market again, alongside husband and fellow PGG Wrightson salesperson Gary. Jil says the property is a winner.
"This fits the description as either a chic, bijou business or an extraordinary, fabulous home. Five spacious and exquisitely re-decorated en suite rooms, three with Juliette balconies, set the tone, while on the ground floor the large modern kitchen is perfect to prepare breakfasts for guests. A spacious formal dining room at one end adjoins a private family area for personal use when the house is full. For summer days the conservatory and sun-drenched patio are ideal for relaxation after tennis, a swim in the pool or a stroll in the charming gardens.
"This is truly an outstanding property, in a class of its own either as a homestay, or a generous, elegant family home," she says.