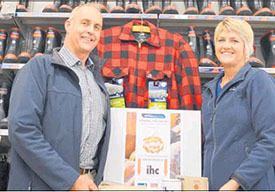 Planning ahead for the best pumpkins
November 2019
Halloween is over so it's time to start planning next year's lantern by planting a fairy tale pumpkin and be in with a chance to win some great prizes.
PGG Wrightson real estate agents Andrew Fowler and Amanda Edwards present the Family Fun Pumpkin Growing Competition and have sent 9000 invitation packs with pumpkin seeds, to every rural boxholder in the Western Bay.
"With the company motto being 'helping grow the country' we are hoping to swamp the region's pumpkin market
. . . just a little," Andrew says.
"Friends and colleagues have spent a fair few hours putting three seeds in each invitation envelope."
Both Andrew and Amanda will be growing pumpkins. Amanda has been liaising with their field reps to work out when the soil temperature is right to sow the seeds. From now until the middle of December is the best time, she says.
"We love the fact that pumpkins are so versatile and are a superfood."
Musquee de Provence or Fairy Tale pumpkin seed stock has been selected for ultimate eating flavour, spectacular large size and is easy to grow, Andrew says.
"Why bother growing a big pumpkin that you can't eat. Our Fairy Tale seeds grow into delicious sweet and smooth pumpkins. This is the exclusive variety that will be judged come harvest and prize giving pumpkin parties in both Katikati and Te Puke in May 2020."
There are prizes up for grabs for heaviest, sexiest and ugliest pumpkin and most pumpkins on the vine.
"We have good honest Kiwi prizes already donated from Red Band, Swandri and Norsewear."
PGG Wrightson technical adviser Celese Prior is keen to get planting.
"I'll put them in the garden, give them some fertiliser, compost and water and they should grow for me. It's nice and simple and anyone can do it."
Andrew says they are looking forward to having a lot of fun over the next few months leading up to the pumpkin party in May.
The whole family can get involved with growing pumpkins and it's free food. The Tauranga foodbank and Auckland city mission are looking forward to taking any excess crop, he says.
More invitations with seeds are available from PGG Wrightson/Fruitfed store in Katikati for a donation to IHC. Field reps in-store are happy to advise on products to boost your pumpkins, and Amanda and Andrew have growing tips and recipes to share.
"We're sure your family will love growing Fairy Tale pumpkins — have fun and be healthier for this experience."
Find out more about Andrews current listings here, and Amanda's here.
From Katikati Advertiser