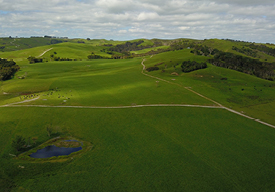 Property Express - Premium Opportunity Ruawai
October 2019
Large Northland rural portfolio offers outstanding long term opportunity.
A large rural property portfolio around Ruawai, 30 kilometres south of Dargaville, is for sale comprising a significant portion of some of Northland's premium dairy production land.
Over the past five years Bryan Beeston and family have been involved in developing the holding, which now covers 1124 hectares across three dairy farms and a run off property, with a 300 cow lease dairy farm that is also for sale. He says they represent a long term opportunity for a far-sighted investor.
"These farms produced a three year average of 689,000 kilograms from around 2000 cows on 780 hectares of effective dairy land. They are in good shape to continue at or exceeding that level. We have developed the business focusing on the most sustainable return from people, cows and land.
"While a new owner will be able to take on the business and run it as we have, for someone with an innovative approach and sufficient resource, it poses as a unique opportunity to develop in a new direction.
"Ruawai has around 8300 hectares of alluvial soils developed into fertile dairy and cattle country more than 100 years ago, situated in useful proximity to Auckland. With further drainage and irrigation development, which is straightforward as the hill country is suitable for water storage to support the flats, this land stands ready to take over the mantle from Pukekohe as New Zealand's next market garden district. Our farming operation represents more than ten per cent of Ruawai's prime, flat, fertile land," he says.
Pukekohe's traditional role as the nation's vegetable garden has transitioned in the past few years, just as East Tamaki did 60 years earlier. Increased pressure from the growth of Auckland has made subdivision for residential use the rational option for owners of established market garden land in that district. Growers and investors have gone
looking for other opportunities elsewhere, particularly seeking larger scale than the market garden heritage blocks of six to eight hectares. Modern vegetable production, relying on larger machinery and greater economies of scale, has reduced the viability of these smaller blocks.
Bryan sees that as the long term opportunity for Ruawai, with a new owner staging the evolution out of dairy production.
"This is excellent land, with 1.2 metres of rainfall per annum. Its scale offers ideal scope for something different to what has been done in the past. After World War 1 it was subdivided into lots for returned soldiers, who farmed up to 20 cows each. Gradually the blocks were consolidated and the farms became bigger, though the land has
continued to sustain around 2.7 cows per hectare. With a new skill set, this land could be used for different crops. Locals grow kumara and maize grain and other crops could be grown in this alluvial soil.
"Along with the rest of the Ruawai flats, this land is likely to evolve into horticultural production within the foreseeable future. With the scale that our farms present, a seamless farm gate to plate business would be possible for the right investor, so long as they have capital, access to end markets and relevant expertise," he says.
Ruawai is 146 kilometres from the Auckland CBD. Bryan says the proposed Warkworth to Wellsford motorway will considerably cut the approximately two hour drive time.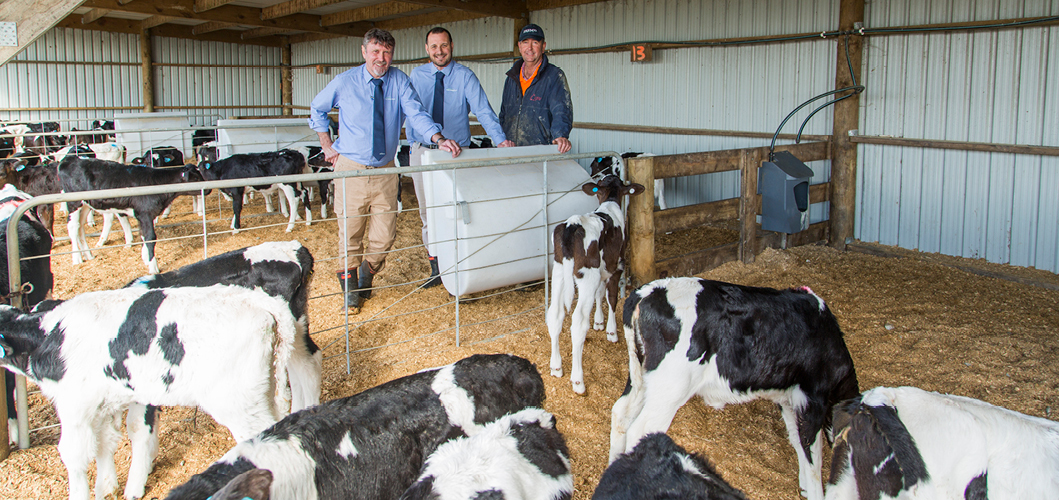 Ron Grbin of PGG Wrightson Real Estate, Dargaville is marketing the farms. He says they have been expertly developed by the current owners.
"Anyone looking to farm in the north would struggle to find a better value dairying proposition than Ruawai. Low costs, high natural fertility, flat paddocks, easy walks and excellent infrastructure make these farms an appealing proposition exactly as they are. This portfolio is available for purchase as just land, land and stock, or a total walk-in
walk-out deal.
"As a dairying business, considerable work has been carried out in the last five years under Bryan Beeston's tenure. Now set up and ready to go with little further improvement required, the properties have been well farmed and much of the benefit of this development is waiting to be realised by an incoming owner. Ruawai flats and the surrounding area are well recognised as Northland's premium dairy production land. This is an exceptional opportunity to
purchase a large portion of it," he says.
In its present form, the portfolio consists of three milking platforms of 321, 285 and 242 hectares, plus a 128 hectare run off block and 150 hectares of cropping land currently in maize. Water for all farms is supplied from dams sitting within the portfolio.
"With its fertile soil, converting this land into more intensive and more profitable use is a realistic prospect for a sufficiently resourced new owner," says Ron.
The Beeston family also owns several dairy farms in Mid Canterbury. Combined with the Ruawai properties, these produce over 2,500,000 kilograms of milk solids per year. Their decision to sell the Northland portfolio
is motivated by the desire to consolidate the family's farming activities.
This property is for sale by deadline private treaty with offers closing on 20 November. To read more this property go to page 15 of the Property Express magazine by clicking here.