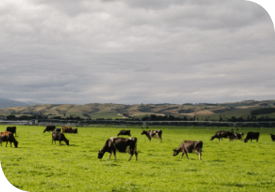 Price Correction for Dairy Amid Broader Market Buoyancy
June 2019
Among growers in the horticulture sector and sheep and beef farmers, a positive mood is propelling the rural property market forward. For dairy, however, the situation is more cautious.
Kiwifruit orchards are selling at record levels, with hundreds of millions of dollars committed to future investment; viticulture development is steady; pipfruit and stonefruit property is being closely held by growers while some large developments are pending; and returns for farmers in the red meat sector have been at record levels for a sustained period.
In specific areas of the country well-resourced parties are enhancing their holdings of land suited to growing trees to generate carbon credits. While this may appear as competition for traditional farming, it is also a partnership opportunity from which sheep and beef farmers might diversify revenue.
Conversion of land use is part of each of these trends. Land use change to increase productivity has happened throughout the history of New Zealand agriculture; probably more so now than in recent memory.
Meanwhile, sales of dairy farms have been scarce for at least 12 months. For properties that have sold, prices are softening.
Banks are concerned about their overall exposure to the rural economy and the debt carried by farmers. Some farmers are under pressure to improve their equity levels by paying down debt. This is challenging for many, particularly in the dairy sector. Banks also appear to be adhering more strictly to their lending criteria, making it more difficult for farmers to secure finance for rural property purchases. We are therefore in an unusual position while interest rates are at sustained lows, commodity prices are riding high, including excellent returns for dairy farmers,
and climatic conditions are generally favourable. However, the dairy property market is at best static on low levels of activity.
Among tier two and three dairy farms recent transactions indicate a ten to 15 per cent price reduction. For larger tier one farms, scarce sales make precise trends difficult to gauge. However, a correction of between five and ten per cent appears likely.
For farmers keen to enter the rural property market, securing finance has become the biggest challenge. Anyone seeking to purchase needs to consider every possible option. That prolongs the whole process. Those who are highly motivated, or under financial pressure, are in the market. Many others, particularly sheep and beef farmers otherwise ready to capitalise on their careers, are opting to bank the generous returns on offer this season and hold off on exiting the farm just yet. While this is creating a shortage of quality sheep and beef properties, we know there is a groundswell growing that will bring more farms forward for sale in the coming months, particularly in the spring.
Anyone considering selling a dry stock farm, orchard, or vineyard will be met by a favourable market. However, those looking to quit dairy property will find it more demanding than in recent years, particularly since lending criteria became so awkward.
Those vendors who act early, who understand why a price correction has occurred, and who acknowledge what purchasers need to work through to secure finance should achieve the best outcome in these circumstances.
For more detailed information on this or any other issue relating to rural property, please contact your local PGG Wrightson Real Estate office.