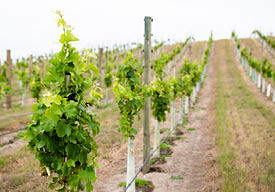 Property Express - Awatere Valley Viticulture
March 2020
Two recent sales mark near complete conversion of Awatere Valley
Land use change in Marlborough, from pasture to viticulture, is now close to complete. Most of the available land in the Wairau Valley has been growing vines for some time, and in recent years the same transition has worked its way through the Awatere Valley.
Joe Blakiston, Nelson-Marlborough sales manager for PGG Wrightson Real Estate, along with colleague Greg Lyons, has been instrumental in this evolution. They jointly oversaw the transaction of two of the last remaining significant Awatere Valley sheep and beef properties.
"Witnessing the transformation of the region's primary production has been fascinating. Watching the community benefit from a new land use, while assisting individuals and families to take advantage of this added value, has been humbling and satisfying. PGG Wrightson has a long association with families who have farmed in this district for generations, helping them maximise their most important asset, and therefore set the family in good stead for future generations.
"To do that while also helping ensure a progressive and profitable future for our region's economy is something we are proud to have been involved in," says Joe.
In 2016 on behalf of long-standing owners Ken and Shirley Marfell, Joe marketed Straits View Farm, a 261 hectare Awatere Valley property on the eastern boundary of Seddon, which was purchased for $4.35 million by neighbour Yealands Estate. In 2019 he negotiated the sale of Kilkishen Farm, a 181 hectare Awatere grazing property that had been in the hands of the Maher family since 1912, and which also sold to Yealands.
Renamed by the new owner as the Marfell Block and the Maher Block respectively, each farm is now on track to become a substantial new vineyard. Approximately 105 hectares of the Marfell Block will be planted in Sauvignon Blanc, Chardonnay and Pinot Noir vines, producing from the 2021 season. Meanwhile the Maher Block will translate into approximately 120 canopy hectares, planted in Pinot Noir, Sauvignon Blanc, Pinot Gris and Chardonnay, projected for first vintage in 2023. In addition, the Maher Block features an existing lower flats area set aside for natives, which Yealands plans to preserve and extend up to around five hectares, with further regeneration of natives on the site.
Michael Wentworth is general manager of external relations and sustainability for Yealands Wine Group. He says the timing and scale of the two farms brought to the market by PGG Wrightson Real Estate was ideal for his company.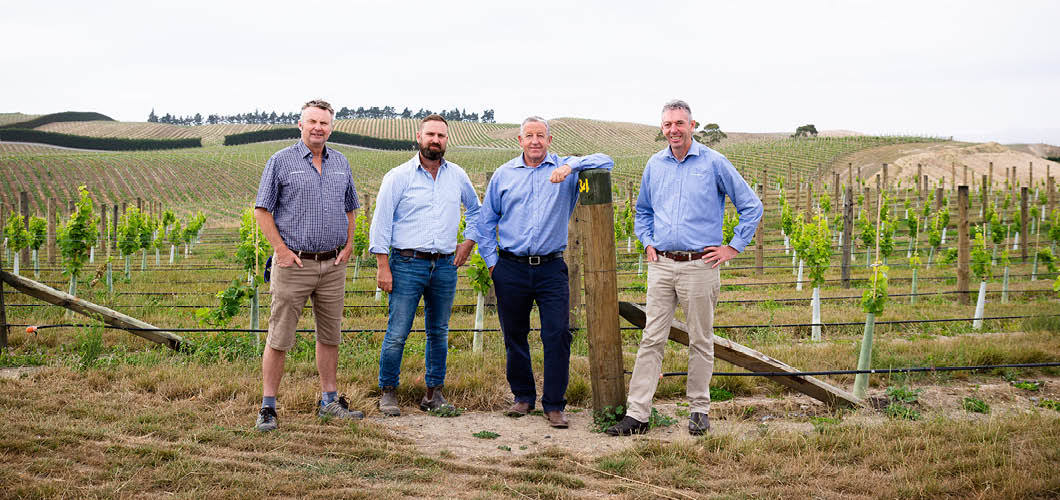 "Global demand for our product is rapidly increasing, which translates into demand for land suitable to grow vines. These properties tick several boxes for us. Deciding to purchase each was simple.
"Buying the Marfell property, which adjoins land we already owned and have grown grapes on for many years, suits our existing production. It extends our presence nearly to Seddon township and offers us contours that will look fantastic growing grapes. Meanwhile the Maher block is ideal vineyard land, has an excellent water right from the Awatere River; offers scale for grapes that has become extremely scarce; and came available exactly when we were seeking a critical piece of our future supply puzzle," he said.
Utility company Marlborough Lines purchased a majority share in Yealands Wine Group in 2015, subsequently acquiring the balance in 2018, meaning the two properties are now ultimately owned by the people of Marlborough, through their electricity network. Michael Wentworth says this is a positive development for the company.
"Our new owners have been fantastic for Yealands Wine Group, enabling us to grow the company, whether that be developing new vineyards or entering new markets, realising the international demand for our wines," said Michael.
PGG Wrightson-owned Fruitfed Supplies has also played a key role in the development of the two new vineyards, as Blenheim-based Fruitfed Supplies horticultural sales representative Blair McLean explains.
"Fruitfed Supplies' relationship with Yealands goes back more than 20 years, assisting in the development of vineyards first in the Wairau Valley, more recently in the Awatere.
"We have been involved in all aspects of setting up new vineyards for Yealands, including technical agronomy, planting grapes, testing soil, designing and erecting trellises, irrigation, wind protection and frost mapping.
"Yealands is fully focused on minimising environmental impact. We have assisted to assess and mitigate that, ensuring these new vineyards produce great wines, with low or no carbon emissions. For example, we have assisted Yealands to invest in trellis, canopies and posts, among various other assets that will minimise environmental impacts," says Blair.
Most of Joe Blakiston and Greg Lyons' extended active involvement with the two properties is now concluded, turning them into enthusiastic observers as the development proceeds.
"These transactions, and the effort behind them to assist the families we worked for to sell their farms, which in both cases took several years, reached a satisfactory outcome for all concerned.
"We are looking forward to seeing the future development of the two properties, which are both set to feature among the region's outstanding vineyards. In a few years raising a glass of the first vintage from each will be a particularly poignant moment," said Greg.