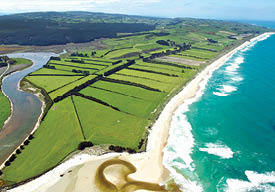 Property Express - Chrystalls Beach Dairy
March 2020
Self-contained South Otago dairy farm with excellent environmental credentials
A large self-contained South Otago dairy farm producing up to 325,000 kilograms of milk solids per annum, sitting right on the beach, and with huge opportunities for fishing and hunting is for sale. What's more, due to its location and unique mix of soil types, this property is as close to being environmentally future-proofed as possible.
Paul Thomson of PGG Wrighston Real Estate, Dunedin is selling Chrystalls Beach Dairy Farm on behalf of Tony and Sue McDonnell. At age 55 and with none of their own family interested in taking up dairying, the McDonnells have decided to make a change. Tony's history as a dairy farmer stretches back 40 years, while his father Allan, who owned Chrystalls Beach previously, was a dairy farmer of even longer standing.
"Dad owned it from 1998 to 2000. He initially bought it as a run off, and started to develop it, though was then diagnosed with terminal cancer and decided to sell. While we quickly regretted that the farm had been sold, the family who bought it converted it, doing an excellent job, putting in a 50 bail rotary shed, establishing two modern houses and planting numerous trees, also running some beef cattle on the property alongside the milking platform.
"When it became available again in 2012, we moved quickly. We concluded the deal within a week. With the sand flats, the farm's potential to winter cows is excellent as there is no issue with nitrate run off. We were then considering having to build herd homes to winter our cows, so the sand flats offered an excellent alternative. In the event however, we decided that the best way to farm the property was to extend the milking platform and make it self-contained," says Tony.
Tony and Sue then owned two other dairy farms, since sold. At Chrystalls Beach they put on share milkers Gareth and Nicola Ferguson, who had worked with them for several years previously. Increasing productivity was the challenge they set themselves.
"We needed to take hold of a large farm, re-pasture it all, establish tracks and upgrade the water supply. This was a dairy conversion on an extensive scale. We had to design and put in place a system not just for milking, also for wintering and raising young stock. We set out to create a fully self-contained farm, rather than just a milking platform," he says.
Mycoplasma bovis made that an even better decision. As well as being self-contained, the farm is almost completely isolated.
"Apart from a stretch of about 100 metres, we have no boundaries with any other neighbours. Since that adjoining block is in forestry, there is no risk from our cows putting their heads over the fence to a neighbour," says Tony.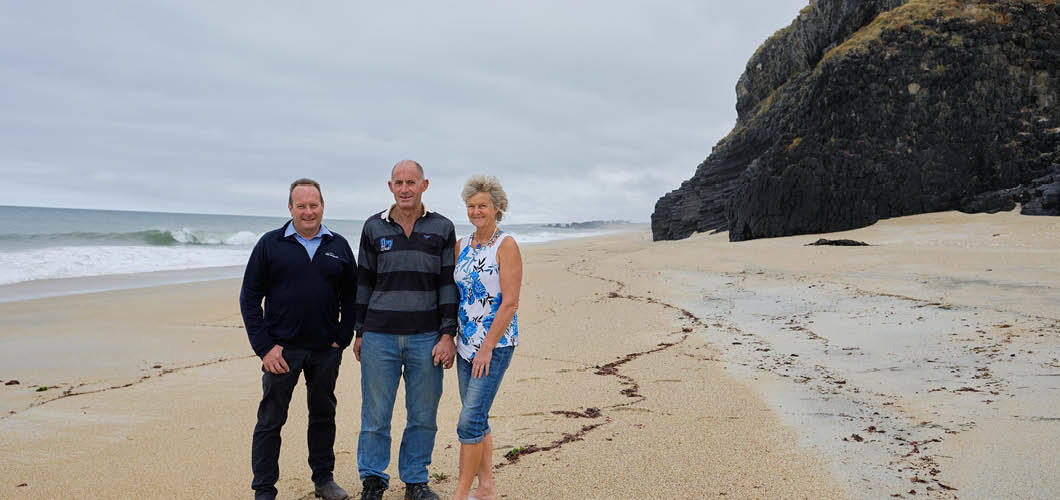 With 120 hectares of sand flats and the remaining 480 hectares on silt and gentle to medium hill country, Chrystalls Beach Farm is uniquely versatile.
"Our sandy ground is ideal for wintering cows: in wet weather the paddocks drain easily, though the run off does not end up affecting any waterway. Varying soil types complement the flats, so if the sand gives problems in a dry, a large proportion of the farm is on heavier soils on the hill, where we take the stock when necessary. All the hill run off drains back into the sand or to vast riparian areas, so we have none of the issues so many other dairy properties face. Our mix of soils and topography mean we avoid all that," says Tony.
Production is from 800 dairy cows, while Chrystalls Beach Farm also carries between 160 and 170 two year old heifers and approximately the same number of yearlings, with some of the R2s grazed on the McDonnell's residential block at Waihola. Tony says a new owner will have the opportunity to increase production.
"Most of the donkey work has been done, to the point where the farm is ready to take off. All the improvements are sitting there ready to go. A new owner can pick it up and take it forward," he says.
Also awaiting a new owner is another diversification option: trees.
"Forestry will be viable without reducing milk production. Planting out the gullies would give 50 hectares or more of forestry potential. Some is already going back into natives, with scope for carbon trading, while exotic forestry offers potential on the other side of the plough line, where trees would be more profitable than pasture," Tony says.
And when the work is done, there is recreation aplenty.
"Whether you are a fisherman, a pig hunter or a duck shooter, this is basically a game park. We border the mouth of the Tokomariro River, so as well as sea fishing, there is ample river fishing, and we can even access a whitebait fishery from the property," he says.
Paul Thomson expects Chrystalls Beach to appeal to a farming family looking at options for the next generation.
"This is an exceptional example of large scale self-contained dairying in the reliable South Otago area. Its location handy to Milton brings Dunedin close, while proximity to the Central Otago lakes, including Wanaka and Queenstown is also inviting.
"Tony and Sue McDonnell have done an excellent job bringing the farm to this level of efficiency. With three dwellings, including a modern four bedroom home plus office, with ensuite and double garage, and numerous farm buildings, its self-contained system, scope to increase production and status as essentially environmentally future-proofed give Chrystalls Beach Farm exceptional appeal," says Paul.