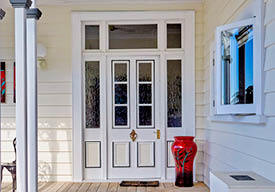 Property Express - Fairview
March 2020
Eastern Bay of Plenty property offers natural beauty, historic legacy and solid returns
An Eastern Bay of Plenty property that has undergone a huge transformation in recent years is for sale.
When Margaret and Michael Kirk took over Fairview Station in late 1989 it had seen better days. Located in Nukuhou North, 30 kilometres south east of Whakatane, the 462 hectare farm was breeding sheep and beef, with some deer. Fairview Homestead had undergone sporadic maintenance, including a series of owners putting their own stamp on it over the years.
Margaret says the couple, who began farming in Hawke's Bay in 1965, had various criteria when they first looked at Fairview.
"In Hawke's Bay we had farms under the ranges, out from Waipukurau. We had two separate farms and wanted to put the acreage together. However, doing that in Hawke's Bay was expensive, so we came to the Bay of Plenty looking for a farm. The house had to be on a hill, with a view, and it had to have potential," she says.
Fairview Station matched their requirements. Originally the home block of approximately 12,500 hectares purchased by the Murray brothers in the 1890s, Fairview Homestead dated from 1893, situated on a hill at the front of the property, as Margaret explains.
"Back then, they cleared the bush and prepared an elevated site for their home, with a road from what is now State Highway Two. Kauri logs were cut in Coromandel and barged to Kutarere wharf, then transported to the site by ox-drawn drays. Timber was milled on site and the house was built in the era's Queenslander style, with verandas on all four sides, and ornate wrought iron decoration.
"In 1901 the station was sold to the Ryan family who held the land until 1943 when it was sold to the Department of Lands and Survey. It became a staging farm for sheep and cattle bought in Gisborne, with the stock walked to Fairview for rest, shearing and lambing, before droving south as far as Rangitaiki. A settlement of several homes grew around the station, with families whose children attended the local school.
"Land was taken for soldier settlement and then ballot farms. This reduced the acreage considerably," she says.
When Margaret and Michael took over the house needed remedial work. They held off until 2010 before embarking on a major refurbishment.
"We aimed to restore the house. We renewed the roofline to a villa style, and all rooms were lined with gib and plaster, replacing the original scrim. We rebuilt the decks in wood, and replaced the traditional wraparound Queenslander verandas with two 'L' shapes, one on each end of the house," says Margaret.
By turning the homestead into a spacious, comfortable home, the Kirks attracted the attention of the Architecture Awards, winning the Waikato-Bay of Plenty section in 2012, with a citation that read: 'The new work served to restore a fine house to its former glory and adapt it to contemporary habitation.'
Improvements to the home matched the couple's endeavours elsewhere, as Margaret explains.
"When we moved in there was a 40 hectare stand of badly degenerated bush behind the house. They had been beautiful trees, including some big rimu. A couple had fallen over and we could see that they were over 800 years old. By that stage the top two metres of the trees were all dead; and possums, rats, and stoats had stripped the farm of native birds.
"We knew we needed to protect and look after our bush. We had always planted trees on our previous farms, the likes of pine, Douglas fir, and redwood along the rivers and in unusable gullies, and this was no different. In 1993 we fenced off the total bush area, and went to work heavily on the pests.
"We brought in a team of workers to put in the bait stations, one station approximately every ten square metres. It took them about a week to put them in throughout the whole 40 hectares," says Margaret.
Initially they refilled the bait every three months, cutting that down to twice a year, now they do it every three years.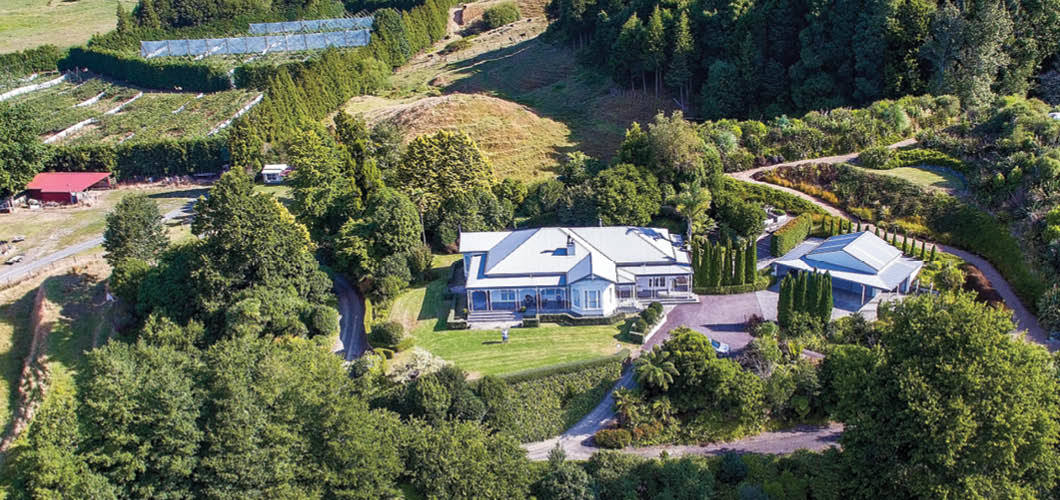 "After two years eliminating the quadrupeds, we began to see changes. With the pest species falling, bush growth became more lush and regenerated strongly.
"We now have abundant, healthy rimu, totara, titoki, kawakawa and podocarps. We have two sections of bush that are a mass of native clematis in the spring, while in the wet there is plenty of kahikatea, nikau, punga and five finger. As a consequence the bird cover is massive. Our bush is home to tui, kereru, grey warbler, shining cuckoo, kaka, silvereye, fantail, kingfisher, and pukeko roaming in the stream.
"Protecting the bush in the 1990s led on to us fencing and planting Horowera Stream, which is amazingly clear and pristine, running through the property, including through our bush. It gives great entertainment to our grandchildren, who love to make forts and weirs, and go eeling. This is a long term commitment, so in 1993 we put the whole area in a covenant, which now has 60 more years to run," says Margaret.
Matching the transformation of the bush, the rest of the farm is now unrecognisable from when the Kirks took over.
"When we first moved in, we were happy farming sheep, beef and deer. Then in 1995 local forestry interests made us an offer for the 405 hectare back section of the farm. We sold, and they planted eucalypts. That property has since been resold, reverting to sheep and beef. With 58 hectares left, we realised our remaining flats were suited to kiwifruit.
"In 2003 we began developing a kiwifruit orchard. We planted 4.8 hectares of green and 2.6 hectares of gold, with potential for further areas available for planting in gold kiwifruit. Our orchard is under Seeka management, and fully frost-protected and irrigated, with a water consent until 2032, taking water from the Nukuhou River, which runs around our boundary," says Margaret.
Although she and Michael assumed they would never leave Fairview, Margaret says they recently realised it was time to move on.
"We intend to buy a house in Ohope. Our three children and five grandchildren are in Ohope, Hastings and Tauranga, so we will stay local, and be well placed to see them. We have been farming for over 55 years, and although we will be sad to leave Fairview, it is time for us to go," she says.
Stan Robb of PGG Wrightson Real Estate, Te Puke, is marketing the property. He says it offers a unique combination of productivity and aesthetics.
"Fairview Orchard is a well-developed kiwifruit property with good scale and excellent production. What the Kirks have created alongside makes it one of the most exceptional rural listings. They have invested immense care and attention into the bush and the homestead, restoring both to standards that sets an outstanding example to anyone considering similar projects. Their efforts will inspire strong interest from prospective purchasers. A new owner will enjoy so much about this superior property: natural beauty, views, a record of solid returns, and the historic legacy of a lovely old home."