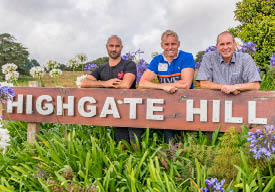 Property Express - Highgate Hill
March 2020
Onewhero sheep and beef farm shows the benefit of careful development
Mike Fraser departed New Zealand in 2003, setting off on his own through Asia, Africa and into London. After growing up on a Te Awamutu dairy farm he left the country with a BCom (Ag) from Lincoln and a few years' experience milking cows. When he returned in 2007, having followed a familiar OE pattern of casual work and travel, Mike was 27. He brought back a renewed determination to farm, and a new partner: Englishman Lloyd Rooney, trained as a lawyer though mainly experienced in the hospitality sector.
With family help the couple bought a sheep and beef farm at Onewhero, in the Wairamarama Valley, quickly followed by the purchase of the neighbouring property. Totalling 880 hectares, they named it Highgate Hill, after the much loved North London suburb.
Lloyd had to adapt quickly, from hosting hungry and thirsty Londoners at the gastropubs he owned and operated, to rearing dairy calves in North Waikato.
"He took to it like a duck to water. Before long he had built up his own team of dogs, and was up in the back paddocks herding bulls. Between us, we took over the pair of farms, which were both a little run down, integrated them into a single unit, and developed the result into what it is today," says Mike.
That work comprised of replacing fencing through much of the property, a new laneway system, subdivision into 95 paddocks, a comprehensive fertiliser regime, cleaning up the pasture and gorse control.
Mike reckons the water improvements were their major achievement: a four inch ram supplying two reticulated water systems that service over half the property, with natural water reaching the balance.
"It has been highly successful, producing a huge amount of water, with plenty of troughs throughout, plus a back up with a pond we can switch to when necessary," he says.
Up to 2017 the couple's farming comprised around 8000 stock units in a mix of bull grazing, fattening and breeding, with 370 hectares intensive and around 400 hectares extensive, running 70 per cent cattle with the balance in sheep, and raising 500 to 600 calves per annum.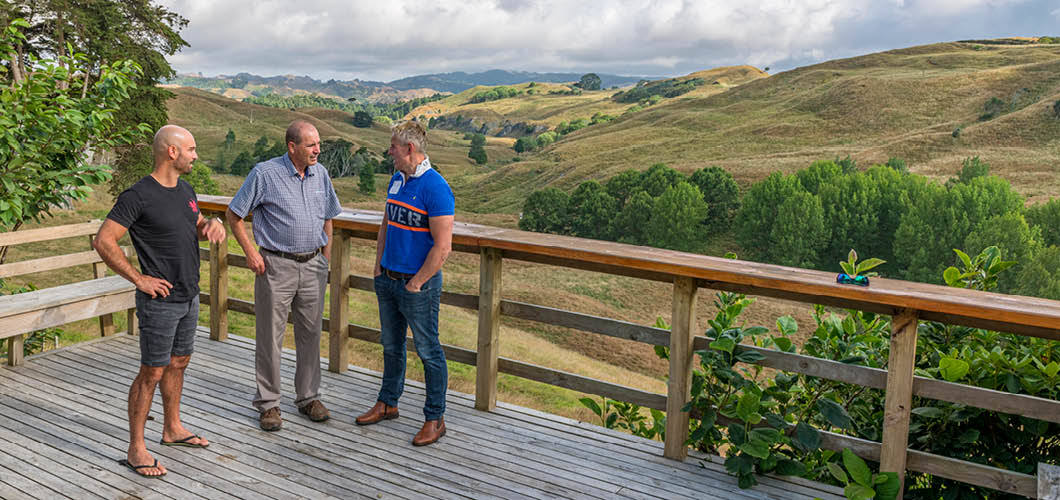 Mike says Highgate Hill has huge character with two big valleys going through it.
"As the back paddocks catch the west coast weather systems, we have good rainfall throughout the year, so although it's not totally summer safe, there is usually plenty of feed. That enables us to raise autumn calves, unloading animals at 18 to 20 months. We have run a traditional sheep and beef system in the back part of the farm, where the paddocks are more extensive, bringing the lambs round to the front of the farm for finishing.
"As a bonus, there is plenty of hunting, with fallow and red deer, sika, and goats, providing a supplementary income. With a second house on the farm, we have also offered bed and breakfast, which is popular," he says.
However, in 2017 Lloyd's desire to pursue his hospitality career resurfaced, and an opportunity arose for the couple to take over a restaurant at Waipu Cove, Northland, 185 kilometres north of Onewhero, on the other side of Auckland. One restaurant became two, and they leased out the farm. Now they have six restaurants, at various locations throughout the Bay of Plenty and Northland, employing 200 staff. With Highgate Hill still in the mix, trying to encompass both agriculture and hospitality is too much of a stretch, so Mike and Lloyd have decided to sell the farm, with Adrian van Mil of PGG Wrightson Real Estate, Pukekohe presenting it to the market.
Adrian says Highgate Hill offers scale and balance.
"What Mike and Lloyd have done to raise production is excellent, and soundly based. New infrastructure, electrics and water systems open the option for a new owner to push it further, building on the already admirable productivity.
"In a lovely private setting, the main four bedroom homestead has commanding views, connecting to the second three bedroom home, which is just over a kilometre away. Well-appointed support buildings meet all the usual needs for a sheep and beef farm, along with three sets of cattle and sheep yards with good load out facilities, while as a whole the property offers a wonderful array of contour, streams and bush.
"Also worth noting, greater urban Auckland's continued growth to the south will present options here in the foreseeable future. New subdivisions in Onewhero are an early indicator, and that development prospect will appeal to a new owner with suitably long horizons," he said.