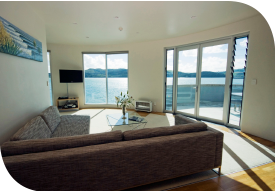 Raglan waterfront landmark for sale
April 2016
The Silos, a Raglan waterfront landmark that is one of New Zealand's most distinctive homes is for sale.
Described as a trophy property like no other in New Zealand, 88 Wallis Street comprises two cement silos on the Raglan Wharf. Disused after the Port of Raglan officially closed in 1981, over the past 10 years, they have been converted into a luxury home, plus four additional upscale apartments operating as a successful holiday accommodation business.
Richard Thomson of PGG Wrightson Real Estate, Hamilton is marketing the property on behalf of Rob Galloway and Marie de Jong, who have owned The Silos since 1993 and began converting the building into apartments in around 2002.
"This is an amazing building that has been developed for its present use with outstanding vision, great care and huge creativity. When they were decommissioned in the late 1970s, The Silos' solid steel and concrete construction was deemed impossible to demolish. Initially used by Rob and Marie as the workshop for their leather business, Soul Shoes, they have since repurposed and refurbished the buildings into an inventive and distinctive symbol of Raglan.
"Built in 1964 by the Golden Bay Cement Company, The Silos' original use was storage for cement. Two concrete cylinders, 12 metres and 20 metres in height, they were used to take cement off ships from Nelson for distribution throughout the Waikato.
"Apart from The Silos' main three-bedroom apartment, which is approximately 185m2 and is home to Rob and Marie, the other four apartments are a thriving holiday accommodation business. Each around 70m2 and looking out over Raglan Harbour including amazing views of water, bush, baches and boats, these are finished to a high standard with a mixture of polished timber and polished concrete floors plus their own private decks or courtyards," he said.
Rob Galloway said the couple's plans for the buildings emerged after they built the first apartment in around 2002.
"We liked the idea of living in it and plans developed from there, with the accommodation business shaping as the option that suited us and the building the best.
"When the larger silo was built, it was capable of taking 2500 tonnes of cement and it is extremely strong so poses no engineering problems and, now it is empty, you can do whatever you like with it. Through the redevelopment, the Waikato District Council has been supportive and motivated to help us create something special. We looked at various options including residential and commercial office space. Those should remain viable for a new owner and The Silos still has room for another four apartments plus office or retail space.
"It is an absolutely unique place and we will be sad to move on but it is time to let someone else have a go and develop The Silos to the next level," he said.
Richard Thomson said The Silos is a well-known and cherished part of the town.
"Orca swim past The Silos a couple of times a year, cleaning up the harbour's stingrays. You almost feel like you could touch them out of the window.
"Although originally a pair of stubby industrial concrete cylinders, The Silos is now a treasured asset to Raglan. Refurbished to beautiful proportions, while similar in some respects to a lighthouse or the deck of a ship, the building has developed its own style and unique history, which is now waiting to be burnished by a new owner," he said.
Located adjacent to cafes, restaurants, shopping clustered around the Raglan Wharf and near to the town centre, The Silos are on Raglan Harbour Board lease land with a 21 year perpetually renewable term.
The Silos are for sale by auction, scheduled to go under the hammer at 11 am on Wednesday, 11 May, at PGG Wrightson Real Estate's Cambridge auction room.
Rob Galloway and Marie de Jong have bought a conventional house in Raglan and plan to spend more time sailing.
Further information:
Richard Thomson
07 858 5325 or 027 294 8625