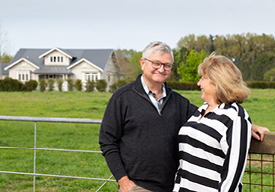 Lifestyle Collection: Couple's relocation saga reaches successful conclusion
October 2020
Marjolijn and Ralph Van Dalen like character homes.
They like the home they live in so much that they have relocated it twice, first from Masterton to Whanganui in 1998, then from Whanganui to Tamahere, Waikato in 2003. Then they relocated two more character homes, bringing a Takapuna art deco villa and a 1920s Hamilton mansion to sections beside their own home.
Marjolijn admits many people struggle to understand why she and Ralph have made a habit of relocating large dwellings, four times over, with each house moved in multiple sections.
"It is nerve wracking, particularly when the building is on the back of a truck, with all the interiors exposed, watching the weather like you never watched it before. However, these houses don't date like more modern dwellings will. They have already stood the test of time. Even so, we are happy to be at this end of the experience, where all the relocation is done and the houses finished, rather than at the start with all the work and stress still ahead of us," she says.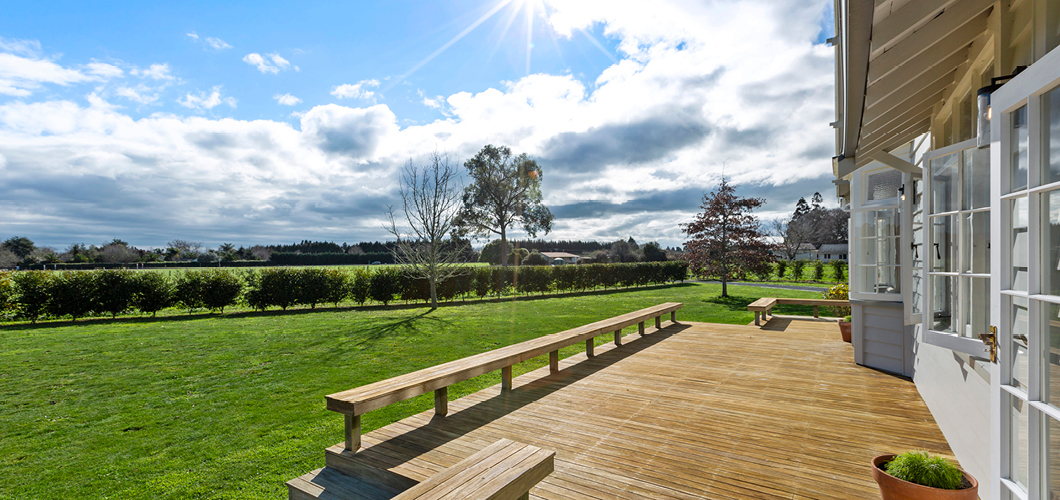 Ralph is a colorectal surgeon and each of the family's moves have been work related. Marjolijn says after the two moves of their own home, ending at the new subdivision on Hamilton's outskirts, they have created a mini-neighbourhood, bringing the two 'grand old ladies' to Tamahere.
First they bought what had been the Anglesea St headquarters of Hamilton's well-loved Lyceum Club after the premises were sold for a supermarket development, a relatively short 16 kilometre journey to Tamahere. Then they found the Takapuna villa, which was a longer more complicated relocation that featured a national newsflash 'House Falls Off Truck in Kumeu,' which Marjolijn says was less disastrous than first feared.
"We heard the story on the six am news and were worried that it was our house. We didn't know for sure so called the moving company. They didn't pick up and we had visions of them being too busy clearing the remains of the house off the state highway. Fortunately, old houses flex and bend, and apart from two boards there was no other damage. In the end, that was the best move we had. They did a brilliant job," she says.
Numerous tradies are also heroes of the Van Dalens' relocation sagas.
"Any that are not so good, you move on from them. For the ones we have kept, their workmanship has been superb and we have been thrilled with what they have done.
"We were determined not to cut corners on these houses. We knew we would sell to people who would become our neighbours: we would see them every day, which made it even more important to do things properly," says Marjolijn.
Their three sons and daughter, now all in their 20s, also served as a workforce.
"They joke about slave labour, and all worked hard on each of the houses, though they don't regret learning all the practical skills to establish and renovate the houses," she says.
When they were finally ready to sell, the Van Dalens turned to Russell and Angela Thomas of PGG Wrightson Real Estate, Hamilton.
"They totally latched on to what we were trying to do, and we are delighted with the sales Russell and Angela achieved for us. Both properties attracted huge interest. While some of it was curiosity at what we had done, people thinking of relocating and inquisitive about the process, plenty of seriously motivated buyers came out too, wanting to buy some history. We are ecstatic with both sales, and looking forward to having new neighbours," says Marjolijn.
Angela says she and Russell have also enjoyed the process.
"It has been a pleasure to be a part of Marjolijn and Ralph's exciting journey with these two properties. It was all about selling the love story, appealing to anyone wanting a piece of history, in a sought after location. Character homes of this calibre are seldom found and rare to the market," she says.
Both properties went to auction, the former Lyceum Club in August, selling for $1.7 million, and the ex-Takapuna villa in September for $1.85 million.
Russell and Angela have had a successful year, featuring heavily in PGG Wrightson Real Estate's 2019/20 awards, including national recognition by winning the super supreme award for top overall sales, excellence in auctions, top in lifestyle property by total revenue, and marketing excellence.
Lifestyle & Rural Sales Consultant
M 020 4004 0360
Russell.Thomas@pggwrightson.co.nz
Lifestyle Sales Consultant
M 020 4004 0368
Angela.Thomas@pggwrightson.co.nz