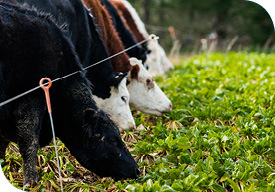 Rural Property Pulse: A Closer Look
September 2019
Sheep and beef
Favourable climatic conditions through the past few months mean sheep and beef farmers in most regions are approaching the spring in an optimistic frame of mind. Several benchmark sales of sheep and beef properties took place during the winter, including a 470 hectare King Country farm, which sold in July for $4.8 million for conversion to forestry; a 504 hectare North Waikato farm, which sold in August for $4.5 million; and a 354 hectare Kawhia dry stock harbour front farm, which sold in June for $4.45 million. Farm prices appear to be strengthening, and new listings of sheep and beef properties are gaining ready attention from the market, based on continuing high commodity prices at the upper end and supported by changes to the New Zealand Emissions Trading Scheme and government policy on carbon credits at the lower end.

North Island dairy
North Island dairy farms have sold at minimal volumes in recent months, even by normal winter standards. Farming's low ranking in public perception, compliance challenges and cash flow issues all had a negative impact on confidence. Securing finance to purchase rural property is a substantial challenge. Prices are under pressure and are unlikely to increase while current conditions prevail. However, more dairy properties came onto the market through the winter, ahead of the traditional spring selling season, and earlier than would usually be the case. Prospective vendors of these farms apparently believe a run of properties will be listed for sale as the spring progresses and see the advantage of staying ahead of the market. Whether or not their theory is correct an increase in dairy property market activity is likely to take place later in the season.

South Island dairy
Over the past two years REINZ statistics show Southland dairy farms sold on average at $30,000 per hectare, a consistent value through that period, albeit the volume of dairy properties transacted is lower now than 2017/18. Meanwhile, owners of the best Canterbury dairy farms expect to sell around the $52,000 per hectare mark, though recent transactions have been rare. A good supply of Southland dairy properties, ranging from 140 to 200 hectares will come to the spring market. Canterbury vendors are also likely to list property. Those who can demonstrate the environmental compliance of their farms, now and in the future, will be better positioned to find willing buyers in what is shaping as a challenging market. Potential buyers in Southland are more abundant, mainly farmers with existing operations in the region who are looking to expand.

Viticulture
During a typical winter, limited transactions of existing vineyards and development blocks proceeded, though potential purchasers are preparing to increase activity, subject to securing financial support. Generally the interest is from wine companies and existing private growers seeking to purchase strategically. With Marlborough land suitable for viticulture development almost fully utilised, two rural properties listed for spring sale, one of 131 hectares in the Wairau Valley and one of 228 hectares in the Awatere Valley, will both command attention from the market. Both have water for irrigation and both have contours suited to vines at a scale that will attract corporates. While in general the sellers' market for viticulture property is likely to prevail through the spring, some smaller vineyards listed for sale are not motivating purchasers due to the overcapitalisation of housing on them.

Kiwifruit
One of the country's largest and best kiwifruit orchards sold in June for a value equating to $1.25 million per canopy hectare for the gold kiwifruit portion, and $600,000 per canopy hectare for that producing green. Although this is a record, with the property recording annual orchard gate returns of $250,000 and $100,000 per hectare for gold and green respectively, the price is grounded in business reality. Several larger than average orchards will list for spring sale, once the vines are pruned and tied down. After Zespri granted 700 hectares of gold kiwifruit licences at $290,000 per hectare, an offer over-subscribed by almost 150 per cent, growers are speculating on the licence price increasing substantially next year. Meanwhile, the sector eagerly awaits news on licences to grow the new red kiwifruit variety, after trials indicate a positive reception in export markets.

Pipfruit and Stonefruit
With exports of New Zealand apples going from strength to strength, demand for land to plant new orchards in Hawke's Bay is keen. Expansion and continued sales growth resulted in one leading grower moving to a new, larger packhouse during the winter, while elsewhere the market demand is evident from the many orchardists replacing old apple trees with the new licensed varietals that are helping to establish such a strong position for New Zealand produce in export markets. Through the winter, this demand has placed pressure on tree stock, which is posing problems for the developers. Sizeable holdings are coming out of process cropping into a range of apple varieties, though demand for new orchard land remains unmet. When it does become available, prices for Hawke's Bay bare land suitable for growing apples range from $100,000 to $150,000 per hectare.

Cropping
With this year's contracts for feed barley and grass seed generally better than ever, confidence among arable farmers is high, though some are focusing on improving their equity position, which will temper demand to purchase property. Transactions through the winter indicate that at the lower end of the arable sector values sit between $42,000 and $43,000 per hectare, rising to $45,000 to $46,000 per hectare for better appointed properties. A small number of Mid Canterbury's premium arable farms will be offered for sale this spring. As usual, purchasers of these will most likely be existing farmers in the district. Compared to last year, vendors have reduced pricing expectations by between eight and 12 per cent. However, this is influenced by the factors creating uncertainty in the dairy sector as much as by what is happening for cropping farmers.

Forestry
Although reduced demand through China's wet season has resulted in export prices for timber softening by $25 to $30 per tonne in recent months, the drop in the New Zealand dollar and the continuing strong domestic market has compensated, meaning the sector remains upbeat. Speculation focused on changes to the New Zealand Emissions Trading Scheme, which is making trade in carbon credits more lucrative, is another boost. Current pricing expectations for land sit between $25,000 and $30,000 per hectare for mature forests, up to $40,000 per hectare for premium quality forestry and between $5,000 and $7,000 per hectare for bareland blocks. With trees planted between 1990 and 1994 now almost ready for harvest, forests from that era are well sought after, particularly with the carbon credit aspect. At least one significant forest property is likely to list for sale in the spring.