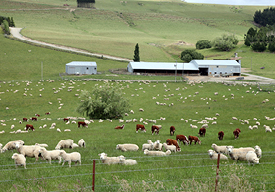 Rural Property Pulse - A closer look
January 2020
Sheep and beef
In several districts market interest in sheep and beef farms is firm, driven by two or three seasons of buoyant returns for red meat, which have left farmers increasingly motivated to buy and sell property. However, where stronger links to the dairy scene prevail, farmers are apprehensive about the impact of compliance issues. Several banks seem to have tightened their rural lending criteria, largely relating to dairy, though also apparently being applied to pastoral farm purchases. Wherever they are coming to the market, the most productive sheep and beef farms in favoured locations and with well-maintained infrastructure are attracting plenty of interest from enthusiastic buyers. For many in the sheep and beef sector, particularly those reaching an age where retirement beckons, this summer and autumn shapes as an ideal time to capitalise on their careers and offer land to the market.
North Island dairy
Recent sales of North Island dairy farms have been minimal. Despite a favourable payout forecast, compliance hurdles and farming's low standing in public perception are eroding farmer confidence. Although those with strong intent will find other ways to fund purchases, conventionally financing dairy farm transactions has become a substantial challenge. Alternative land uses are motivating some buyers, for example a 110 hectare Te Kawa dairy farm sold in October for conversion to milking goats. Three of the more notable spring listings were a 203 hectare property five kilometres west of Whakatane incorporating many future-focused features; a 127 hectare Waharoa, Matamata farm that produced 271,000 kilograms of milk solids last year; and a 246 hectare Arapuni farm producing around 264,000 kilograms of milk solids from 520 cows. How these sell as the summer proceeds will provide clear signals to the market.
South Island dairy
In spite of positive trends in the global dairy trade and prospects for a $7 plus payout, which should improve the financial position of farmers by the end of the season, demand for dairy farms in Canterbury and Southland during the spring was lacklustre. Premium Canterbury farms with good water that might have fetched $56,000 to $58,000 per hectare two years ago are now valued between $46,000 and $51,000 per hectare, assuming a buyer can be located. In Southland spring's late arrival held the market back. A 156 hectare farm at Lochiel, south of Winton, converted to dairy to a very high standard in 2015 was offered to the market in November, generating strong buyer interest. While farm incomes are strong limited financing options are likely to continue to inhibit the market.
Viticulture
After a limited quantity of viticulture property changed hands privately during the spring, a 14 hectare sauvignon blanc vineyard on the outskirts of Blenheim sold to a local family in December slightly above $250,000 per hectare. Several other strong recent sales underline the continued demand for viticulture properties. Wine companies and existing private growers are the prospective purchasers, seeking to buy strategically. Water for irrigation and contours suited to vines at sufficient scale add value to any suitable Marlborough bare land left undeveloped. Given the diminishing land resource, and suitable grazing properties with potential for viticulture development now almost fully utilised, pricing expectations have reduced slightly in the past 18 months, though remain fundamentally strong. Through the rest of the summer the underlying conditions for a sellers' market for viticulture property are unlikely to change.
Kiwifruit
Aside from a minimal number of private sales, few kiwifruit orchards were offered to the market early in spring, which is normal for this time of year. Those listed in late spring received strong enquiry from existing orchardists motivated to expand their holdings. Previously, benchmark values for transactions of the best performing orchards in the most sought after Bay of Plenty districts equated to $1.25 million per canopy hectare planted in gold kiwifruit and $600,000 per canopy hectare for land producing the standard green variety. As summer proceeds, once pollination is completed and the fruit has set on the vines, market activity in orchard transactions may increase, in which case these values may be tested once again. Based on recent trends and assuming the quantity of properties offered for sale remains strictly limited, there is little chance of these prices coming down.
Pipfruit and stonefruit
With few spring listings and keen demand for Hawke's Bay land suitable for pipfruit and stonefruit, anyone selling will attract plenty of attention. Several larger pipfruit interests are looking for land, either to purchase or lease. Two significant bare land sales occurred in recent months, west of Hastings and near Havelock North, both valued between $132,000 and $134,000 per hectare. Significant quantities of apples have been planted in Hawke's Bay in the past few months, including on land previously used for viticulture. Land planted in cherries is also expanding in both Hawke's Bay and Central Otago. In the latter region smaller bare blocks are changing hands at around $100,000 per hectare, while larger blocks, including of 100 hectares or more, are valued at $50,000 to $60,000 per hectare. Some cherry development in Central Otago is being undertaken in partnership with existing owners.
Cropping
Production and the markets indicate that cropping farmers can look forward to a more financially rewarding season this year than last. However, as in other sectors, traditional lenders have tightened their criteria for financing rural transactions. Any farmers seeking to expand their property holdings will therefore need to find capital beyond the conventional sources. Smaller spray irrigated Mid Canterbury arable properties changed hands in the spring at between $41,000 and $45,000 per hectare, a softening of the market. Summer transactions in South Canterbury also look likely to result in reduced values compared to recent years. Several large Mid Canterbury farms will go to the market in the summer. Subdividing each of these into three or four smaller blocks will help facilitate sales, particularly in terms of raising finance, though also in relation to nitrate management.
Forestry
Good enquiry was evident during the spring for established mature or semi-mature forests. Several purchases of forests, or land for trees, received Overseas Investment Office approval through the winter, as documented in the news media. A 729 hectare forest in Clinton, South Otago, well placed relative to ports and with 328 hectares planted in 1993 and 1994, listed for sale in late spring, commanding plenty of interest. Export prices have dropped in recent months, with A grade logs now fetching between $115 and $120 per ton, a 20 per cent reduction. However, the five year average is steady and the only likely impact of the weaker market will be short term, as farmers with small mature plantations grown for superannuation purposes hold off on harvesting for another season or two. Demand through the summer is likely to remain steady.