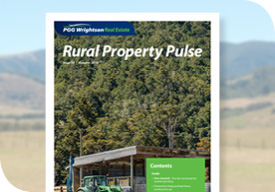 Rural Property Pulse - Autumn 2019, Issue 34 Released
March 2019
Our autumn edition of Rural Property Pulse is now available offering insightful articles on the wool, horticulture and livestock sectors along with looking at the current trends influencing the rural real estate market.
Sourced from our PGG Wrightson Real Estate network of rural sales professionals, it provides a comprehensive review of the current state of the market.

◰ View the Rural Property Pulse e-magazine
◰ Read our Autumn headline article "Two Tier Rural Property Market Operating"

Download the Autumn 2019 PDF
☎ Contact one of our offices today for a physical copy
What is inside Issue 33:
> Peter Newbold - Two Tier Rural Property Market Operating
> Demand for sheep and beef farms pushes prices up
> Strong wool holds ground, at low levels
> 'Normal' summer for livestock markets after slow start
> Dairy cycle at low ebb, and poised to swing back into the positive
> Regional Update
> Growers overcome challenges as climate impacts on production
> A closer look...
◰ View the Rural Property Pulse e-magazine