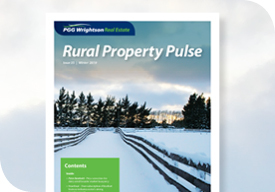 Rural Property Pulse - Autumn 2019, Issue 34 Released
June 2019
We've just released the winter edition of our highly-read national publication, the Rural Property Pulse, which offers up-to-date information sourced from rural experts within PGG Wrightson.
This edition follows the current trends in rural sectors such as horticulture, wool and livestock plus a break down of how the real estate rural sector is trending by region and land category.
Pick up a copy of the Rural Property Pulse today from your local office, or go to pggwre.co.nz/rural-property-pulse to view online or subscribe to automatically receive this publication in the future.
Sourced from our PGG Wrightson Real Estate network of rural sales professionals, it provides a comprehensive review of the current state of the market.

◰ View the Rural Property Pulse e-magazine

Download the Winter 2019 PDF
☎ Contact one of our offices today for a physical copy
What is inside Issue 35:
> Peter Newbold - Price correction for dairy amid broader market buoyancy
> Heartbeat - Over-subscription of kiwifruit licences indicates sector's strong investor appeal
> New rural online trading platform offers farmers a 'virtual saleyard'
> Strong wool market giving positive signals
> Weather and outlook for return influencing livestock markets
> Regional Update
> Harvest generally favourable for growers in all sectors
> A closer look...
◰ View the Rural Property Pulse e-magazine