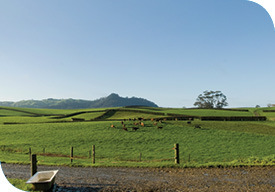 Rural Property Pulse: Highly Active Spring Rural Property Market Likely
September 2019
Favourable climatic conditions through the winter bode well for the spring. In most primary production sectors the positives do not end there as international markets are driving demand for New Zealand's produce ever higher. Depending on what they produce farmers have multiple reasons to feel positive which has translated into most sectors of the rural property market.

We are seeing plenty of good spring listings of sheep and beef farms in most districts with every indication that these will be met by strong demand. Historically sheep and beef farming progresses in cycles. If so, it appears we are currently at or approaching the high point of the curve. Should history repeat, those considering cashing in on the red meat sector's present excellent fundamentals, and exiting at the top, are probably making a
wise decision.

Horticulture is also enjoying the benefits of the excellent demand that New Zealand's powerful international brand stimulates for our produce. That flows directly to the rural property market, nowhere more clearly than in kiwifruit, where record values are surpassed virtually every quarter, where Zespri's licences to grow the coveted gold variety were over-subscribed by almost 150 per cent this year and where demand to invest in the sector shows no sign of abating.

Changing land use has been a constant throughout the history of New Zealand agriculture, and with many sectors so buoyant, there is no shortage of investor confidence in trying something different. We can see that, for example, with the reach of horticulture extending into Northland and Waikato, the footprint of hops doubling over the past five years in the Tasman region, viticulture taking almost all the available land in Marlborough's Wairau and Awatere valleys, and increasing apple production on what was traditionally Hawke's Bay sheep and beef country.

Forestry is another land use change attracting plenty of attention in several districts. While some may not regard this trend as positive, the increasing awareness and possibly burgeoning value of carbon credits, provides farmers with an additional income stream that for many will be thoroughly welcome and is generally most applicable to country previously classed as low in production value.

Although it has a major role in the nation's economic fortunes, the dairy sector is currently framed by uncertainty. While dairy property sales have trended down for the past two years an increasing number of farms are likely to list for spring sale. How soon they will sell is difficult to predict. Some purchasers are awaiting a price correction while others are finding it difficult to secure the finance they will need if they are to buy. An increase in the volume of dairy property sales is probable in the coming months though this is not likely to be instant. In some districts a ten to 15 per cent correction in dairy farm values is indicated. If this is substantiated, compared to the past few months the volume of sales between now and the end of 2019 should rise.

Spring is the busiest season for those of us involved in rural property. With so much going on the spring of 2019 is set to be a momentous one.

Whether you are considering entering the market to buy or to sell this edition of Rural Property Pulse will provide you with plenty of useful information to assist with any market decisions you make. In addition my colleagues at your local branch of PGG Wrightson Real Estate are standing by to take your call and to help achieve whatever objectives the market can deliver for you this year.

We look forward to hearing from you.
Peter Newbold
General Manager
PGG Wrightson Real Estate Limited