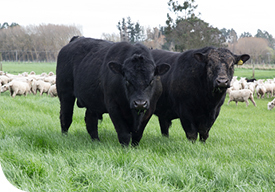 Rural Property Pulse: Mild Winter and Strong Export Demand Encouraging for Sheep and Beef Farmers
September 2019
Winter throughout the country was generally kind. Sufficient rainfall and mild conditions accelerated the recovery for those districts hit by drought last summer and most seem to be well set up for spring with plenty of feed available.
A productive season will further enhance the optimism of farmers already encouraged by export prices. This is particularly evident with continued strong demand for beef, driven by China, while global demand for lamb is also at or approaching record levels, with propitious fundamental market conditions for sheep meat.
Chinese focus on issues around food quality standards makes New Zealand's red meat a particularly desirable brand, giving the big Chinese businesses more options. This is a long term trend that has increased recently and is likely to gain further momentum this season. Currency depreciation over the past few months also favoured New Zealand's sheep and beef farmers.
Through the winter, farmers have been confident in their livestock purchases. Kind weather meant lambs were finished earlier than normal, creating extra demand for any stores available. Only a few breeding ewes went through the South Island saleyards, with virtually nothing available under $200. Well-bred cattle also sold positively.
Another trend in livestock markets is the enthusiastic adoption of online trading. An outstanding example of this was the first online sale of South Island deer via the bidr platform, characterised as a cloud-based saleyard.
A Southland breeder's pedigree hinds were offered at a sale in August. Registrations and bids were high, with farmers from as far afield as the Bay of Plenty purchasing. Average prices exceeded reserves by 165 per cent. As bidr was only officially launched in early July, such a positive result, and the apparent appetite for online livestock trading in New Zealand, looks set to genuinely expand farmer's future options.
Meanwhile, trade in dairy livestock was light during the winter, with few quality animals available. Demand exceeded supply, so prices were buoyant. Anything available sold well, indicating that in the spring, farmers offering stock with any quality will be well received by the market.
Towards the end of the winter sales of mixed age dairy cows ranged between $1400 and $2000 per head. Even for lesser cows prices were strong. Boner cows have been similarly scarce with the meat value holding them up.
Because neither quantity nor quality has been exceptional, when the right dairy animals become available, the market has upside.
Younger stock are also in short supply. Significant enquiry from China in August focused on rising one year heifers. Less stock available than at this time last year strengthened the market.
Without significant numbers of animals being traded, supply and demand is driving values. Where quality is available, it is selling well.
Running through to mid October, the dairy bull sale season features sales throughout the country through saleyards and on-farm.
This report was prepared in consultation with PGG Wrightson's Livestock team.