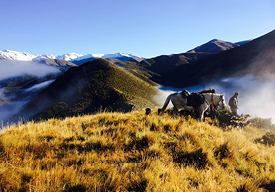 Rural Property Pulse - North Island update
January 2020
Northland
Several Northland and Auckland farms were listed for spring sale. While potential purchasers are active, obtaining finance is a challenge. Vendors prepared to be flexible, for example, leaving some money in the property, are more likely to sell in such circumstances. An 84 hectare Hunua property attracted exceptional attention when it was offered
for spring sale. Approximately 30 tenders were lodged for the former dairy farm on flat to easy rolling land six kilometres east of Papakura. It sold in two parts, both to local farmers intending to augment existing farm.
Another spring listing that attracted plenty of buyer interest was an 1124 hectare dairy portfolio around Ruawai, 30 kilometres south of Dargaville, which also has soils suited to vegetable production. Its likely summer sale will be a clear market indicator for rural property in the region and wider.
Waikato
Despite all indications suggesting strong productivity and excellent commodity returns across most primary production sectors, rural property market activity in Waikato during through recent months has been at a low
level. Important environmental compliance issues are expected to arise in the region in the near future, impacting on farming practices. Farmers are apprehensive about these and have prioritised meeting them ahead of paying attention to the property market. Otherwise steady interest in larger drystock farms remains thwarted due to
the absence of support from financiers. Although alternative lending options might arise, they are not yet evident. While the region's supply of farm listings exceeds the market's enthusiasm level, it is still lower than anticipated due to the difficulty of securing finance, which is discouraging those who might otherwise make Waikato rural property available for sale.
Bay of Plenty, Central Plateau and South Waikato
Demand for orchards and Bay of Plenty land suited for kiwifruit development is strong, though such properties were largely absent from the market as 2019 ended. Growers are likely to become more active as the new year progresses. In Rotorua several dairy farms listed for spring sale, though inclement weather, uncertainty in
the sector and the difficulty of securing finance held purchasers back. A 164 hectare Reporoa farm that changed hands for $45,000 per hectare gave encouragement to other vendors. Activity around Whakatane and the wider Eastern Bay of Plenty exceeded the same period last year, including two notable listings: a 203 hectare Whakatane dairy property recently re-developed to surpass likely future environmental requirements; and a top producing 314 hectare Nukuhou North dry stock grazing and finishing farm. How quickly these find new owners will send clear signals to the market.
Lower North Island
Plenty of new listings came onto the spring rural property market through Taranaki, Wanganui, Wairarapa, Manawatu and Horowhenua, covering a range of farm sizes and land use types. Smaller sheep and beef properties were greeted enthusiastically by purchasers while, as in other regions, dairy farms were more difficult to transact,
with conventional financing proving problematic. A 155 hectare East Taratahi irrigated grazing property, just south of Masterton, sold at a good level to a local purchaser in late November while a 199 hectare flat to easy undulating Pohangina property 22 kilometres north east of Feilding, used for dairy support and finishing sheep, was
also set to sell well later in the summer. With positive commodity returns likely to continue, a firm market for lower North Island sheep and beef farms should prevail, with prices holding up well.
Hawke's Bay
As in other regions, tightened financing criteria has restricted sales of Hawke's Bay farms. One significant transaction was Oakbourne, a 410 hectare farm mainly finishing bullocks 37 kilometres east of Waipukurau that sold in late winter between $11,000 and $13,000 per hectare, firm on current Central Hawke's Bay values; while Cabbage Tree Flat Station, Waimarama, a large coastal sheep and beef property 34 kilometres south east of Hastings, changed
hands in October. Both transactions indicate that enthusiasm for good properties remains strong. A 243 hectare Elsthorpe grazing property and a 557 hectare Patoka hill country breeding property both attracted reasonable
interest when presented recently, and the speed with which they find new owners will set the tone for the market in the coming months. In the sheep and beef sector buyer numbers are tight, though good farms are always sought after.