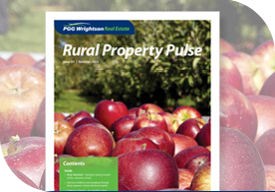 Rural Property Pulse - Summer 2018, Issue 33 Released
December 2018
Our Summer 2018 Issue of Rural Property Pulse is now available. Produced quarterly for nationwide distribution, this publication contains relevant and up-to-date information on rural real estate.
The summer Rural Property Pulse explores the factors that contributed to a cautious spring rural property market. There are plenty of positives though, with strong meat schedules, interest rates at historical lows and significant global demand for horticulture.
Sourced from our PGG Wrightson Real Estate network of rural sales professionals, it provides a comprehensive review of the current state of the market.

◰ View the Summer 2018 e-magazine
◰ Read our headline article "Subdued spring market set for summer revival"

Download the Summer 2018 PDF
☎ Contact one of our offices today for a physical copy
What is inside Issue 33:
> Peter Newbold - Subdued spring marketset for summer revival
> Spring conditions encouraging, though dairy wariness checks livestock market
> Land use change – an ongoing story
> Exceptional recent sales of rural property
> Regional update
> Weakened Chinese demand poses challenges for wool growers
> Growers looking forward to a productive summer
> Outstanding summer listings
> A closer look...
◰ View the Summer 2018 e-magazine