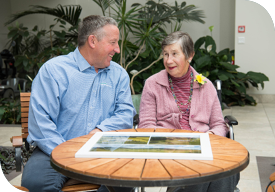 Sale of Kilkishen Farm signals end of an era for family and district
October 2018
Kilkishen Farm is an approximately 166 hectare Marlborough grazing property, the final substantial farm in the lower Awatere Valley yet to grow grapes. Approximately 130 hectares are suitable for viticulture, and the present owners recently secured resource consent to take B class water from the Awatere River to irrigate the property.
For over a decade Nelson/Marlborough Sales Manager for PGG Wrightson Real Estate Joe Blakiston has worked with the Maher family, who own Kilkishen Farm, including helping secure the water right. They have now decided it is time to sell, he says.
"Both the farm itself, and market conditions, are ideal for a change of land use, from traditional sheep and beef, to viticulture. As the final significant Awatere block not yet in vines, Kilkishen Farm has a particular value, especially as over recent harvests, with favourable conditions, some fine grapes have been grown locally. In Sauvignon Blanc, this magnificent farm will go to a new level," says Joe.
A few years ago, as Lois Maher often quoted: 'the nor' wester will blow the mortgage off your farm one day, and the southerly will blow it back on the next.' Joe says grapes have changed that, and with reliable water, local prosperity is more dependable than being at the mercy of the infamous wind.
"While it is poignant to see Awatere farms cease sheep and beef production, for the Maher family, whose ownership goes back three generations, moving on is just reward for many decades of hard work on the land," he says.
Lois Maher and her children are selling the property she formerly farmed with late husband Tom, who inherited Kilkishen from his uncle, Jack Ryan.
Lois and Tom's son Kevin, who now lives in Queensland, is the family historian. He says Kilkishen was originally part of a large sheep station, Dumgree.
"Like other sheep stations in the area, such as Starborough, Dumgree was compulsorily bought by the government to allow closer settlement, subdivided and auctioned off in 1912. Dumgree's old front gate is still there in the roadside fence, and a trace of the track is visible on Google Earth," he says.
Kevin says Jack's parents owned the Waihopai Hotel.
"According to family history, they didn't think a pub was a good place to bring up five boys, so they 'tickled the till' to accrue some, if not all of the deposit for Kilkishen.
"Jack and his brother Paddy originally farmed Kilkishen in conjunction with another farm their older brothers were running across the river. Jack claimed to have crossed the Awatere at all hours of the day and night on horseback, between the two properties," says Kevin.
Jack married Norah, who was Tom Maher's father's sister, in 1928.
"That was when the house was built. A small two room hut served as accommodation prior to that, which Paddy lived in for several more years.
"Jack and Paddy spent countless hours picking stones to make the farm suitable for cropping, then for stock. Initially they cropped wheat and oats, then switched to sheep.
"My father's parents, brother and two sisters lived on a farm outside Seddon. My grandmother, Lucy Maher, passed away in late 1943, when Tom was three and a half years old. With no children of their own, Norah and Jack looked after him, and brought him up on the farm.
"At the start, they used horses and there is still a Kilkishen paddock known as the Horse Paddock. Then, in about 1948, some horses Jack was working bolted, and he declared he'd never yoke them again, replacing them with a Fordson Major tractor. This was later replaced by a Ferguson TEA, which was where Tom's lifelong enthusiasm for the Massey Ferguson brand began," says Kevin. One year was wetter than usual. Kevin says a traction engine driver taking a shortcut between paddocks became totally bogged down.
"They were only able to tow the traction engine out about six months later, when a neighbour's traction engine came free, after the end of harvest.
"Although it was tough at times, farming was rewarding. Lucerne was primarily grown on the stonier areas, along with kale, as well as turnips as stock food, plus grass and clover. One clover crop was so good Uncle Jack was apparently able to buy a new car with the proceeds. By the mid 1950s the mortgage was paid off," says Kevin.
Like other properties in the area, the house was surrounded by hedges, Kevin recalls.
"Norah wanted the hedges cut by Christmas. On top of carting hay and shearing, cutting hedges by hand was a labour-intensive job, so one year Tom modified the Hayter lawnmower they used so the blade was running sideways. That enabled him to cut the hedge much more quickly," he says. Tom married Lois in September 1965 and she joined him on the farm, which they inherited in 1971 after Jack died.
"Tom progressively set about improving the fences and clustering the gates together, which made stock movement much easier.
"My father was great at making hay from grass and lucerne, and had an innovative way of raking it. Most people rake round and round a paddock in the same way they cut the grass. Dad did things differently, using a conventional towed hayrake and another he had modified to fit on the front of the tractor. He raked it into lines on the paddock, like vineyard rows. That made it easier to dry, which also made it faster to bale because it eliminated corners that would normally be there if the hay was raked round and round. Straight rather than circular raking was also kinder on the tractor's universal joints and PTO shafts. Our prevailing wind typically blew through the Taylor Valley, so the rows were raked in line with that, which in practice meant parallel to the road," says Kevin. Awatere's fault line runs through the property, and has been the focus of visits by scientists and students from Victoria University over the years.
After Tom died in 2008, Joe, then PGG Branch Manager, arranged a lease to the neighbouring Westenra family, who have faithfully farmed the property in conjunction with their own farms since. Lois continued to live in the homestead until June, when she moved to a Christchurch retirement village.
Joe Blakiston is confident of finding a willing buyer for Kilkishen Farm.
"Market interest is high and prices are firm across all classes and sizes of Marlborough viticulture land. Development land is no exception and is at a premium. Several corporate viticulture interests and significant investors are active in the market. This is a desirable listing, in a strategic Marlborough location, with reliable water. Assuming a spring sale proceeds, Kilkishen Farm will be ready for 2019 planting," he says.
Kilkishen Farm is for sale by deadline private treaty, with offers to be lodged by 15 November.