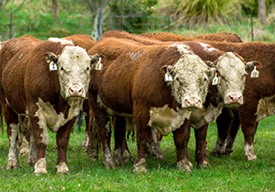 Rural Property Pulse - Securing finance a challenge though revenues present opportunities
January 2020
In the early weeks of a new production season, positive growth and elevated revenues are evident in most sectors of the rural market.
While short to medium term returns are encouraging, concerns in banking circles associated with exposure to the rural sector are hindering farmers' access to finance. This derives from the greater capital requirements placed on banks, including the Reserve Bank's review of the capital framework applying to locally incorporated banks and
guidelines on liquidity risk. It is also amplified by the prospect of farmers facing higher operating costs through environmental compliance and future standards that will exceed the status quo.
This uncertainty is having an effect on more intensive businesses, including dairy farms, which potentially face more intense scrutiny relating to environmental compliance as well as carrying higher exposure to debt.
Late in 2019 the Reserve Bank announced final decisions on its review. Banks have seven years to rectify their equity position. Potentially this is a new positive, with banks no longer unsure of where they stand, therefore possibly able to take a more positive and proactive approach. Time will tell whether this makes it easier for farmers
to secure finance. If so the rural property market should become more active. If not, farmers will need to adapt to the new conditions, which will happen, though may take some time.
These financing challenges carry some benefits including strong competition among banks for good farming clients.
In due course, if there is no easing in the coming weeks, they are also likely to encourage farming businesses to seek
out alternative funding options. Equity partnerships, agricultural investment companies and alternative land use are all mechanisms that banks may look upon more favourably.
Another impact on the rural property market, notable in several regions, is that vendors who have subdivided larger
holdings are finding it easier to sell. That strategy is based on understanding your purchaser and the market. Farms are generally more likely to sell to buyers looking to augment an existing property, rather than take over a fully functioning unit, particularly at a time like this when there is a degree of market uncertainty. That being the case, a 100 to 200 hectare parcel of land will offer more options to more potential buyers than a 500 hectare block. For the purchaser there is a more manageable capital requirement associated with a smaller block of land.
Granting finance of $1 to $2 million for a smaller block, rather than $7 to $8 million for a full economic unit, is a much easier decision for the bank to make.
Clearly a series of important issues is creating uncertainty, which is taxing farmer confidence. These include requirements around carbon emissions and regulations relating to freshwater management, as well as bank lending.
In terms of revenue and demand however, New Zealand agriculture is thriving. Commodity prices have been excellent for several years, with plenty of reasons to believe that they will remain strong through the coming season and beyond. Horticulture exports are buoyant and the dairy payout is predicted to sit around $7 this year, which should leave every dairy farmer with money in the pocket or at least in a less stressful equity position. Even more clearly, red meat prices look likely to exceed the record levels set in the 2018-19 season.
Around the market for sheep and beef farms interest in the market is firm in several districts. With two or three seasons of buoyant prices for red meat behind them, positivity in the market has accumulated, and farmers are increasingly motivated to buy and sell property.
For those farmers who have no obligations around succession, and assuming their environmental compliance plans are in order, now would be an excellent time to capitalise on the years of hard work by offering their property
to the market.