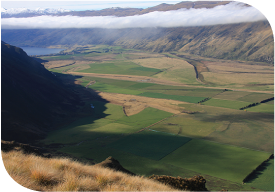 South Island Regional Update: Autumn 2019
March 2019
Tasman
During late spring and early summer local climatic conditions for pastoral farming, arable and horticulture enterprises were excellent. However, the Tasman region suffered a drier start to 2019 than most would prefer, resulting in Nelson's catastrophic fires and challenging conditions elsewhere, including water restrictions. Much of the rural property on offer prior to Christmas sold well, including viticulture development blocks with good rights to water. Big Bush, a 339 hectare Nelson Lakes sheep and beef farm, also changed hands firm on recent values shortly after a tender process. Farms are generally selling to purchasers from within the region. Sheep and beef farmers repaying debt and paying tax makes a positive situation for rural property sales. With few Nelson and Marlborough farms available, any that come to the autumn market should be eagerly welcomed by motivated purchasers.
Canterbury
Some notable North Canterbury sheep and beef breeding and finishing properties sold well during the summer. These include 844 hectare Culverden farm Mandamus Downs, 249 hectare Glenmark property Manahune, and Waiau Pastures, a 400 hectare irrigated Parnassus property. These sales illustrate that willing buyers will come forward for properties with scale and productivity. Any farms with similar credentials offered to the autumn market should be well received. Properties carrying fewer than 5,000 stock units drew less attention. Meanwhile, as in several other regions, potential purchasers of dairy property are hesitant. Factors including tighter environmental regulations and the removal of overseas investors have persuaded some that a price correction in the sector may take place. They are holding back until that occurs. Any autumn correction for dairy property values would provide impetus for the Canterbury market, though is not inevitable.
West Coast
Although the weather was excellent and grass abundant, despite its best efforts, local co-operative Westland Milk Products was unable to offer its suppliers returns to match those of companies elsewhere. With most of the region's farms in dairy, and Westland's payout not sufficiently above $6 to give farmers confidence, the West Coast's summer rural property market activity was scarce. Farm values in the region start at around $20,000 per hectare, considerably lower than in other regions. With good systems, these properties will sustain 2.5 cows per hectare, which should provide a fair return on efforts, even with a $6 payout. However, without a minimum of 50 per cent equity, new entrants to ownership will not secure finance to support purchases. This situation is unlikely to change during the autumn, or any time until forecast returns can be consistently elevated.
Mid and South Canterbury
Despite the listing of several excellent Mid and South Canterbury rural properties in the summer, the market was not especially responsive and few transactions resulted. Value expectations among purchasers are possibly between five and ten per cent below those of vendors. Purchasers and their financiers are paying particular attention to balance sheets and to a farm's productivity under new land and water use regulations. Nitrogen budgets have become a key component of any sale, and without a balance sheet strong enough to take on additional debt, a cautious approach to any new purchase is inevitable. Forest Downs, a 319 hectare bull beef finishing farm between Geraldine and Fairlie, going to auction at the start of March, should give a reliable gauge of where the Mid and South Canterbury rural property market sits, and may provide a lead for increased activity during the autumn.
Otago
Otago's summer rural property market focused mainly on the sheep and beef sector. Demand for quality properties above 4,000 stock units was strong across the region, and particularly in South Otago, including from purchasers based in Canterbury and Southland intending to relocate. Owners of such farms considering selling would be well advised to act during the autumn to take advantage of what is definitely a sellers' market for this size and scale of property. Prospective purchasers seeking fine wool properties were also evident in the summer. Waikerikeri Run, a 916 hectare hill country grazing property on the Dunstan Range, with a large QEII covenant, sold satisfactorily after a tender process. South Otago properties also sold well. Although activity in the dairy sector was subdued, a 159 hectare Henley, Taieri Plains dairy farm did sell, purchased by a local buyer with other investments in the dairy sector.
Southland
Although Southland's summer rural property market started slowly, sales of dairy and dry stock farms picked up through December and January as more vendors accepted a market correction. Most of the interest was from local buyers, although dairy sector interest from the North Island was also noted. Corporate activity around Southland farms is more apparent than elsewhere in the country, with yields in the region sufficient to attract investment. However, in line with other regions, larger dairy properties are difficult to sell. While Northern Southland dry stock farms are well sought after, after a busy spring, few were offered for summer sale. During autumn steady market activity is likely. Sheep and beef properties in the $2 to $3 million range should continue to sell well, with most likely purchased by farmers in near proximity. Banks are supporting purchases of cash positive businesses.