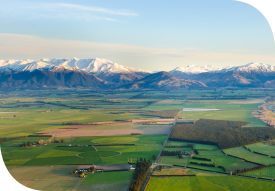 South Island Regional Update
November 2017
Nelson and Marlborough
While pruning was in full swing, sales of Marlborough vineyards were slow through winter. Demand for Nelson dairy farms remains enthusiastic, with interest from the North Island. A significant dairy transaction was confirmed during August, when a 165 hectare 340 cow Golden Bay property was taken on by a purchaser from outside the district. Meanwhile in a notable Marlborough sale, a 2,000 hectare extensive hill country grazing property in Ward sold in August to out-of-town buyers.
Listings are short in all land use types, including lifestyle properties. Any rural property offered for spring sale in the region should therefore receive an enthusiastic response from purchasers, as supply and demand factors are likely to drive prices to premium levels during the next few months. With interest evident from outside the region, Marlborough viticulture transactions will be closely watched.
Canterbury
Although new rural listings during the winter were limited, two Waikari, North Canterbury sales showed demand is steady. A 187 hectare sheep and beef property sold at auction in late May and a 593 hectare farm sold in late June, both for around $1200 per stock unit. Canterbury purchasers are taking time to undertake due diligence, particularly focusing on nutrients and irrigation.
Climate and market activity have followed traditional patterns this winter, suggesting a productive season ahead, with plenty of property transactions. Some notable spring farm listings look likely, particularly in sheep and beef, though the recent payout forecast should also motivate more Canterbury dairy properties onto the spring market.
While demand for good farms with favourable rainfall is always strong, the balance between supply and demand of Canterbury rural properties is relatively even at present.
West Coast
Optimism around dairy prospects has taken awhile to reach the West Coast. However, local cooperative, Westland Milk Products had brighter news for its shareholders in the winter, providing a 40 cent advance on its payout and a markedly improved forecast of between $6.40 and $6.80 for 2017/18. A 76 hectare Whataroa run-off property sold for $10,000 per hectare to a neighbour during July, a rare winter transaction for the region, providing a degree of encouragement for farmers and an indication of market sentiment.
Although West Coast farmers are happier than they have been for some time, spring rural property market activity is likely to be reticent. Some farmers are interested in putting land up for sale, though are reluctant to commit because they do not believe buyers will be particularly motivated. It may take a few more months to overcome this inertia.
Mid and South Canterbury
A limited number of larger Mid Canterbury dairy properties changed hands during the winter, with prices for the most desirable firm between $50,000 and $55,000 per hectare.
As in much of the rest of the country, climatic conditions discouraged listings and the market has otherwise been quiet. Contagious cattle disease, Mycoplasma bovis, discovered on a South Canterbury property in late July, caused concern, though its apparent containment provided some reassurance. Farmers' response to the increased dairy payout forecast has been low-key in Mid and South Canterbury.
However, alongside their bankers, they will gain some confidence from this. A typical spring rural property market is likely in the region this year, with business as usual and sales proceeding at a steady rate, albeit following the wet winter, that may take awhile longer to start this year than usual.
For more information, please contact your local sales consultant or local PGG Wrightson Real Estate office.