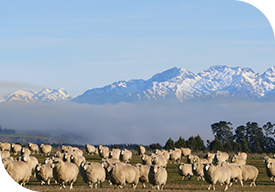 Strong wool holds ground, at low levels
April 2019
Prices for strong wool held their ground during the summer, albeit at low levels.
Due to the wet spring weather, and humid conditions through the summer in many districts, there was more colour in the wool consigned to market than normal. Without careful preparation, and every effort to keep colour readings as low as possible, discoloured wool results in discounted returns.
Lambs wool, particularly in the finer micron range and with better preparation, was in particular demand and sold well.
One positive for the market: passing rates remain low, which means the supply-demand equation is reasonably well-balanced and wool is moving through the pipeline without significant impediment.
While New Zealand fine wool is currently out of its selling season, which will not resume until August, growers will be encouraged that prices for Australian merino and halfbred wool are moving upwards again and likely to remain firm as steady demand continues from the leisure apparel market and the Italian suiting sector.
This report was prepared in consultation with PGG Wrightson's Wool team
◰ Read more in our Latest Rural Property Pulse publication
◰ Read more in our Latest Property Express publication