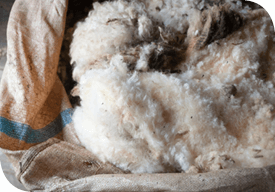 Strong Wool Market Giving Positive Signals
June 2019
Good coloured crossbred wools of all types are meeting strong demand, realising a significant rise in prices over recent months, including a ten per cent increase at auctions held throughout April. Among these, finer crossbred wools have led the way.
Most signs are positive and the crossbred wool market seems to have finally bottomed out to usher in a recovery, albeit a slow one. However, a significant degree of discoloured wool is still coming forward for sale including stocks that have been held back since last season. Where these wools are showing their age, selling them is proving more challenging.
Through the coming months the new season's wool should continue to be enthusiastically received by buyers. Lamb wool and hogget wool, which are at the finer end of crossbred types, with good colour, are particularly highly sought after.
Meanwhile, in the fine wool sector, prices for Australian wool have eased recently as China lifted restrictions on importing wool from South Africa. New Zealand fine wool is off season at present and based on excellent growing conditions, the quality of New Zealand's fine wool clip this year should again be outstanding. Therefore, when they do go back to market from July, fine wool growers of both merino and halfbred should again find their clip well sought after.