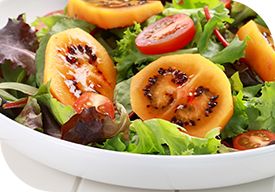 Lifestyle Living Quick Tips: Taste a Tamarillo!
November 2018
Looking for vitamins, minerals and antioxidants in a flavoursome fruit which can be enjoyed as it is or added to your meals? Here's an introduction to tamarillos from the New Zealand Tamarillo Growers Association.
The tamarillo is a sub-tropical plant that thrives in warm climates. In New Zealand tamarillos are mostly grown in coastal areas of the North Island where risk of frosts is low. Varieties include red, amber and gold with amber being the sweetest.
Plant your tamarillo trees now in spring. These can be grown from seed with the best results coming from planting seeds in a tray containing seed raising mix and placed on a heat pad until the seeds have germinated. Once germinated look for a spot on your property that is sheltered from the elements, including frost and wind, and plant in light, well-drained soil.
Tamarillo trees produce their first crop after 18- 24 months. Be aware the trees are susceptible to the tomato-potato psyllid fly which infects trees with liberibacter, eventually killing them if not treated regularly with insecticide.
Harvest tamarillos over the winter months. For signs of ripeness look for full colouration of the fruit, the calyx (stalk) will loosen and the fruit will soften.
Tamarillos can be refrigerated for up to two weeks and frozen either whole or pureed.
Here's some yummy ways of using tamarillos:
Slice raw, peeled tamarillos and decorate flans, cakes and cheesecakes.
Add whole peeled tamarillos to a casserole or any dish (in the same way you would tomatoes).
Try wedges of red and golden tamarillo with a cheese-board.
Toss peeled and sliced tamarillos through salad greens.
Add a couple of peeled tamarillos to stewed apples – the perfect breakfast or quick dessert.
Dice tamarillo and avocado, add a little chopped chilli and onion for an awesome salsa.
Spread a pizza base with sweet chilli sauce and top with slices of peeled tamarillo and green pepper, finely chopped bacon, and blobs of sour cream.
Tamarillos make great preserves, jams, chutneys, relishes, sauces and marmalades.
If you would like to learn more about growing tamarillos commercially or to check out some yummy recipes, visit the New Zealand Tamarillo Growers Association Inc. at www.tamarillo.com.