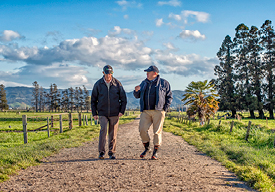 Property Express - State of the art Whakatane dairy farm
October 2019
State of the art dairy farm for sale after 80 years of family stewardship.
In 1938 Edward Law leased 61 hectares at Thornton, five kilometres west of Whakatane, to run sheep. Twelve years later his grandson Jim took over the farm, by then owned by the family, when he married local girl Kathleen Adams. They built the house that they lived in their entire married life, as well as putting up a milking shed on the farm, where they milked 44 heifers in their first season.
Jim and Kathleen's first son, Murray, was born the following year. As he explains, his parents' style of farming was influenced by the times.
"They grew up in the depression and the war. If you didn't have money in your pocket to spend then you had to make do without. For their generation debt was to be avoided.
"Fortunately my father's practical abilities enabled him to thrive. Although he says he never did well at school, leaving at an early age, he could always understand how things work and apply that knowledge which was the basis of his farming career.
"For anything new on the farm he always did it himself, the hard way. When he wanted something made from steel, he bought a welder and taught himself to weld. He only ever worked for himself and before that for his father. He never worked a paid day for anyone else," says Murray.
Jim's philosophy and practical ability paid off. Over time, parts of three neighbouring farms and two sandhill runoffs were added to the original milking platform, bringing the farm to its present 203 hectares, while also transitioning it from owner-operator to 29 per cent share milking, then to 50:50 share milking.
Having previously worked as a relief teacher and in the Rangitaiki Plains Dairy Company office, her marriage at 19 meant a switch for Kathleen to the life of a dairy famer's wife, with motherhood soon after. Theirs was a well spread out family, so she was cutting school lunches for her boys for over 20 years.
Jim's father's farm, where he was born, is eight kilometres away, while Kathleen's parents' farm was also eight kilometres distant, meaning their two lives were lived entirely in the small Thornton community. Understandably, community service was a strong motivator for the couple. Jim belonged to Lions for 60 years, with an almost 100 per cent attendance record. Kathleen was on the PTA and Country Women's Institute, also hosting foreign visitors through the American Field Service and Willing Workers on Organic Farms.
In contrast to these strong local roots, foreign travel inspired Kathleen to build an American style red barn, as seen dotted across the Pennsylvania landscape. Jim's practical skills meant the Law's Red Barn become a State
Highway landmark. Originally built to pack and sell fruit from their orchard, it evolved into a craft emporium featuring products from the flock of black and coloured sheep that Kathleen ran, winning the couple several local business and tourism awards.
Kathleen's other interests extended into genealogy, organic gardening, natural medicine, meditation, numerology and reiki. She died in September 2018.
In 2013, Murray, his three brothers and their parents sat down together to make some important decisions.
"My parents never went to university. My brothers and I all did, before all going our separate ways, which didn't include farming. Seven years ago Mum and Dad decided that the family should take an active management
role in the farm, making a five year plan to create something the two of them could feel proud of as their legacy. That required investment and finance from elsewhere, which was of course different to how they had always operated.
"To make the investment work, we bought our own herd and moved back to a managed owner-operator system, which included integrating two farms, two herds and two cowsheds back into a single farm.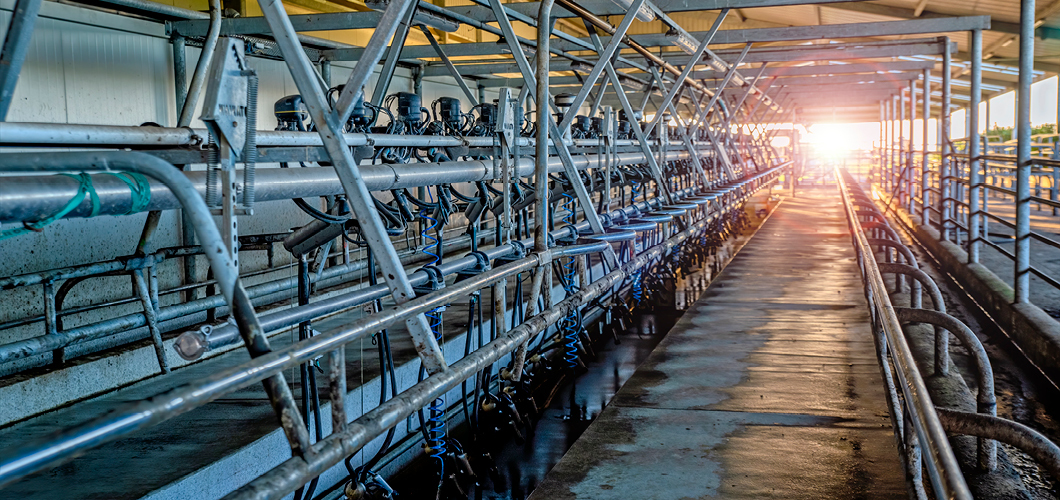 "Dad had built the original cowshed in 1950, rebuilding it himself two or three times over the years. This time around we brought in an architect and a structural engineer. We wanted to build something that would last another 70 years, re-developing based on what will be required in the future: a single, modern, innovative, environmentally-friendly,
40-a-side herringbone dairy and covered feedlot," says Murray.
New races, fencing and calf rearing sheds were part of the re-development plus a common water supply and dosing system.
"We took a critical look at everything we were doing around the cowsheds, hosing down the yard and milking the cows. Minimising unnecessary water use was a major focus. We laid everything out to keep the cows calm
and therefore reduce effluent during milking; we introduced scrapers and a muck spreader in common use on dairy farms in Europe and the United Kingdom; and we designed for gravity to ensure water used to hose down runs downhill, all of which reduced our water use during milking by as much as 65 per cent," says Murray.
As another part of Jim and Kathleen's legacy, a stand of cabbage trees on the farm will form the basis of a native reserve to last in perpetuity, with additional native trees and shrubs to be planted in the fenced area.
Phil Goldsmith of PGG Wrightson Real Estate, Whakatane is selling the property which he describes as epitomising the best characteristics of progressive, sustainable, future focused dairy farming.
"Design seeks to ensure the farm complies with known anticipated future regulatory requirements and is future proofed employing the best of modern technology. Environmental, herd management and future revenue opportunities were evaluated, siting the building so that if neighbouring properties become available, their operation
can be easily integrated with this farm. Meanwhile, the building was designed and positioned to enable installation of a solar array and rainwater collection.
"As well as the farm's complete infrastructure redevelopment, a soil and pasture strategy places particular emphasis on soil composition and balance to improve grass root structure. Testing a mix of annual and perennial grass seed types has found varieties most suited to this particular farm. This programme is a step towards an eventual
transition to organic farming.
"Consideration has been given to breeding the herd to progressively achieve A2. Additional soil tests have identified at least ten hectares of the property suitable for kiwifruit and the farm has grown grapefruit, tangelos and other citrus, on a small scale, in the past, so there are excellent opportunities to diversify," Phil says.
To read more of the Property Express magazine by click here.