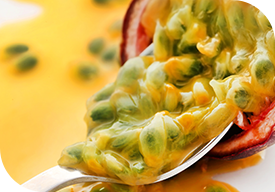 Top Autumn Tip - Tangy, tasty, tropical!
April 2019
Passionfruit, a tropical fruit which has been adapted to cooler climates including New Zealand, offers a long fruiting season, from Christmas through to late winter.
Packed full of vitamins C and E as well as potassium, passionfruit offers a tropical fruit during autumn and winter.
Producing a continuous crop, passionfruit flowers and fruits at the same time as the first fruit ripens. This extends the harvest season over several months although frosts can reduce crops. Pruning terminates the ripening season in
early spring.
There are three passionfruit varieties – yellow, banana and purple. Purple passionfruit is the only variety grown commercially here while banana passionfruit vines are common in northern New Zealand, found in gardens or growing wild in bush areas. In some parts of the country the banana variety has been declared a noxious plant.
Did you know?
When passionfruit is ripe it falls to the ground as opposed to being picked from the vine. The fruit will be an even dark purple colour and is sweetest when left to wrinkle.
Store passionfruit in the refrigerator. It will keep for about two weeks. Left in the warmth or direct sunlight will speed up ripening.
Passionfruit can be frozen – scoop the fruit into a bowl, add a little sugar and freeze in ice cube trays.
Here's some introductory points on growing passionfruit successfully:
Select a position in your garden that receives maximum sunlight, is frost free and sheltered from the wind. The soil needs to be free draining – if the vines are too wet they become susceptible to root disease. Note that heavy clay soils are unsuitable.
Plant the fruit in rows running north to south.
Passionfruit vines are heavy feeders and should be fertilised regularly, particularly during times of high growth or while carrying a heavy crop in spring and summer.
The most common diseases to affect passionfruit is grease spot, which is prevalent during autumn and winter, and brown spot which appears during spring and summer.
To treat both grease spot and brown spot use a copper fungicide spray regularly. If it does appear on your vines, remove all affected fruit (not the whole vine) and spray copper as a protective barrier to prevent the infection spreading.

Passionfruit recipes
Easy passionfruit slice
Ingredients:
Base
One cup sugar
One cup desiccated coconut
One cup self-raising flour
125g butter, melted
Topping
One (395g) cans condensed milk
One (170g) passion fruit pulp, in syrup
Directions:
Preheat oven to 180 °C or 160 °C if using a fan-forced oven. Line a 22cm square pan or slice tin.
Combine base ingredients and press into prepared pan.
Bake for 12 – 15 minutes. Remove from the oven and allow to cool for 15 minutes.
Using a bowl, combine the can of condensed milk and the passionfruit pulp.
Spread the passionfruit mixture over the slice base and return to the oven for about 12 minutes, or until the topping is just firm to the touch.
Remove from oven and allow to cool until set.
Cut into squares to serve.
Sweet chilli and passionfruit dipping sauce
Ingredients:
Two passionfruit
Juice of one lime
Four tablespoons of sweet chilli sauce
Directions:
Combine passionfruit pulp with sweet chilli sauce and lime juice, stir well. Serve as dipping sauce for beef or chicken.
◰ Read our Lifestyle Collection Magazine