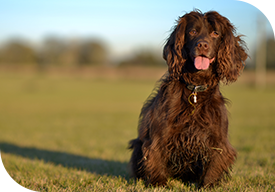 Top Autumn Tips - It's a dog's life
April 2019
The hugely popular 'A Dog's Show' first appeared on our televisions in 1977, introducing dog trialling to urban dwellers.
John Gordon, presenter and producer of the show, has had a life-long love of dogs. So with a great knowledge of working and training dogs, John who is also a lifestyle block owner, offers advice on preparing dogs for small farm living.
As John says dogs are very much a part of New Zealand's countryside. Wanting to have one on your block is natural and will give you and your family a lot of pleasure. The better you train it to fit your lifestyle, the greater the pleasure.
The breed of dog suitable for lifestyle living is varied. The key is a breed that can be easily trained. Not necessarily to work livestock, though it can be useful, but a dog that obeys commands so your family, your pets and livestock live together peacefully. Your relationship with your neighbours is important too and another reason to train your dog well. For a great relationship with your neighbours your dog needs to understand that fences are boundaries and to respect that.
The most desirable trait in a dog is a calm and friendly nature, along with enough brains to understand commands and to respect them. John says new lifestylers are often tempted to get a large, free-running dog to match their new and larger territory. That's fine so long as the dog is trained to stay within the property. If it doesn't, while in small part that may be due to the cross or breed, most of the problem stems from a lack of training.
If you bring a puppy onto your small farm it is important to teach them not to chase stock and encourage children to respect dogs and be confident with them. You can also consider having an older dog join your family as they are often already trained and therefore will behave around children and livestock. This is particularly true of adopting a semi-retired working huntaway or heading dog from a bigger farm.
With the nature of lifestyle living, with neighbours in closer proximity, it is important for a dog to only bark when required. As John says, "you cannot complain about a neighbouring canine chorus if your dog also serenades the moon or passing clouds." The key to teaching silence is, as with all training, insist and be consistent.
As for shelter John suggests whatever option suits you as a family - basket in the house or on the porch, kennel outside; whatever, as long as they are contained at night and whenever you are absent.
John Gordon, and his working dog, live in the country and compete at the local dog trial in Western Southland.
◰ Read our Lifestyle Collection Magazine