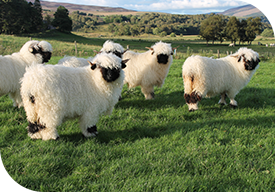 Top Autumn Tips - Meet the Valais
March 2019
Sally Strathdee introduces Valais blacknose sheep and explains why this charming, super friendly breed is a welcome addition to any lifestyle property.
Attracted to the Valais blacknose sheep's appealing look and easy going temperament, Sally Strathdee and Christine Reed are continuing to establish the breed in New Zealand, having realised how much Kiwis will enjoy adding these woolly friends to their families. Originally from Switzerland, embryos were first imported into New Zealand in 2017 from the United Kingdom.
At first glance Valais blacknose sheep are unique with long spiral horns complemented by distinctive black faces, ears and black patches on their knees, hocks and feet on an otherwise white coat.
The Valais are renowned as a great pet due to their lack of fear of people. The Swiss say "make friends with a Valais and you have a friend for life!" This is due to their gentle and friendly nature, attributes that mean the sheep are easy to handle and train. Valais are so trainable that they will generally come to you when you call their names.
Here's some more interesting points about this new breed to New Zealand:
Valais are known for lambing easily and are able to produce rapidly growing lambs year-round. They are dual use, both for meat and producing coarse carpet grade wool.
Rams can range from 80 – 130kg with a height of 75 -83cm while ewes range from 70 – 90kg and 72 – 78cm in height.
As the Valais originate from the mountain areas of Switzerland they are used to cool and dry conditions. So here in New Zealand, in a wetter climate, care needs to be given to the sheep's feet as they can be prone to foot scald and foot rot. In contrast in warmer climates, be aware of fly strike and the sheep will require twice-yearly shearing and shelter from the heat.
A Valais diet is similar to a goats, enjoying herbs and plants found in the mountains, along with grass and clover. In addition to ordinary pasture, the sheep love high protein muesli or nuts.
Lamb fleeces are very soft with fibres that average 28 – 30 microns in diameter while the adult fleece is coarser at an average of 38 microns. Spinners tend to mix it with other fibres such as alpaca. The wool is excellent for felting and the fleece is white and fluffy, offering a "cuddly toy" appeal.
Both New Zealand and the United Kingdom's breeding adheres to the original Swiss Breed Society Standards. This means, in New Zealand, imported embryos have genetics which can be traced back to the original Swiss parentage.
Christine Reed and Sally Strathdee are the faces of Valais Blacknose New Zealand and together they have sourced genetics of Valais blacknose sheep from two of the top prize-winning breeders in the UK. You can contact them via http://www.valaisblacknose.co.nz or the Valais Blacknose New Zealand Facebook page.
◰ Read our Lifestyle Collection Magazine