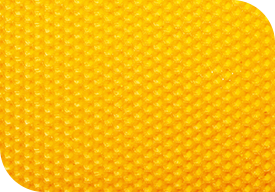 Top Autumn Tips - Mind your own beeswax
April 2019
Cornelia Holten of KoruKai Farm shares her beeswax food wrap recipe.
Living in rural or semi-rural areas can mean recycling and removing waste from your property is trickier than for those residing in the city and surrounds. Here's an easy and effective way of reducing your plastic waste by eliminating the need for plastic wrap from your home.
What you will need:
100% cotton fabric
Pinking shears to cut the fabric and prevent fraying
Small paintbrush, unused (then keep for this purpose only)
100g beeswax
20g coconut oil
Method:
Wash and dry the fabric you would like to use BEFORE you cut it into desired pieces. Cornelia says she made the mistake of cutting it into pieces and then washing it and by doing so caused the fabric to fray.
So wash then cut the fabric so fraying won't occur.
Place coconut oil and beeswax into a double boiler. Cornelia used a Pyrex jug and a pot with water in it to melt the beeswax.
Place cloth pieces onto a clean baking tray and place in an 80° oven for about 10 minutes.
Once the wax is melted and the cloth pieces are hot remove the baking tray from the oven and brush each piece with the wax and oil mixture. Simply wax one side of the cloth and then place another one on top and brush it again on the top side. Always supervise children when doing this step as the wax can be very hot.
Once painted with the wax and oil mixture, return to the oven for 10-15 minutes for the whole fabric to become infused with wax.
Remove from oven and quickly hang each piece on a clothesline.
Be fast! As it prevents the beeswax from cooling and the pieces from sticking together. If this happens, simply reheat the remaining pieces in the oven.
7. After just a few minutes of drying, the beeswax food wraps will be ready to use.
Tips for use:
To use a beeswax wrap firmly press it around your food or bowl. The warmth of your hands activates the mixture and the cloth will stick.
Wait for your food to cool before using your wax wrap.
Don't place beeswax wraps in the oven, dishwasher or microwave as they will melt!
To clean the wax wraps use cold water and mild soap (eco-friendly is best). Either immerse in cold water and dish soap or sponge off with a dishcloth. Air dry on a dish rack or use a tea-towel to pat dry.
Some oils and sauces may stain your wax wrap, but your food stays fresh.
As they can't be washed with hot water, do not use them to cover raw meat.
Keep to the guidelines above and your wax wraps can be used over and over again.
NZ Gardener is a packed with practical information and features inspiring gardens from all over New Zealand.
Subscribe at mags4gifts.co.nz/nz-gardener
◰ Read our Lifestyle Collection Magazine