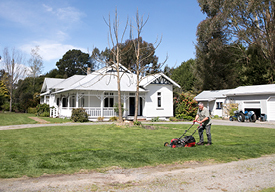 Lifestyle Collection - Treasured piece of history passes into eager new hands
November 2019
One of Taupo's historic residences changed hands recently. Rona Reid and Stuart McKinstry sold the 105 year old home, now situated on a 4.5 hectare property at Oruanui 20 kilometres north of Taupo, to Kim Alquist and Vicki
Williams.
Jil Richardson of PGG Wrightson Real Estate, Taupo marketed the property in a joint listing with husband and fellow PGG Wrightson salesperson Gary. She says it is one of the district's oldest remaining houses.
"This is a delightful historical Taupo home built from local matai, kauri and rimu and lovingly restored with the addition of contemporary insulation and a few other modern comforts. Built in 1915 the house was originally located in Rawhiti Street, Taupo, where in its day it was one of the town's grandest residences, serving in turn as a surgery for a local GP, a boarding house and a wedding reception venue, as well as doing time as a family home.
"It is a genuinely charming residence with a heart-warming back story and, since its move 20 kilometres up the highway, it has gained a new lease of life," Jil says.
When Rona and Stuart found the house in 1997 it required a bit of love as Rona explains.
"It was run down, though the bones were strong. It needed a revamp and the exterior needed painting. Because of its age, it was all lead paint, so we had to take care when removing that," she says.
Rona and Stuart shifted the house in 1998, in two sections, with two trucks.
"I was nine months pregnant at the time and it was a nerve wracking experience. We cut the house in half and took the roof off so it would fit under the powerlines. It was loaded on the trucks and ready to leave the property at 3am. All Rawhiti Street's other residents came out to watch. We left everything inside the house because we
thought we could save some money on removal costs, though with the roof off, that turned out to be a risk. It poured with rain and everything was flooded; our furniture and clothes and even the grand piano which was also still inside the house," says Rona.
Fortunately, apart from the weather, the move went to plan and on its new site they stitched the house back together and put on a new roof. Extensive restoration included using light fixtures from the old Wairakei Hotel, French doors and leadlights. They also opened it up to make it more open plan and brought the trees that had been growing
around the house in Rawhiti Street.
"We dug up about 50 trees including several mature specimens. We moved maples, rhododendrons, camelias and red beech, among others. Apart from a beautiful oak, which I was very sad to lose, we managed to keep the rest of the trees alive, successfully re-planting them around the house to properly establish it within its new grounds," says Rona.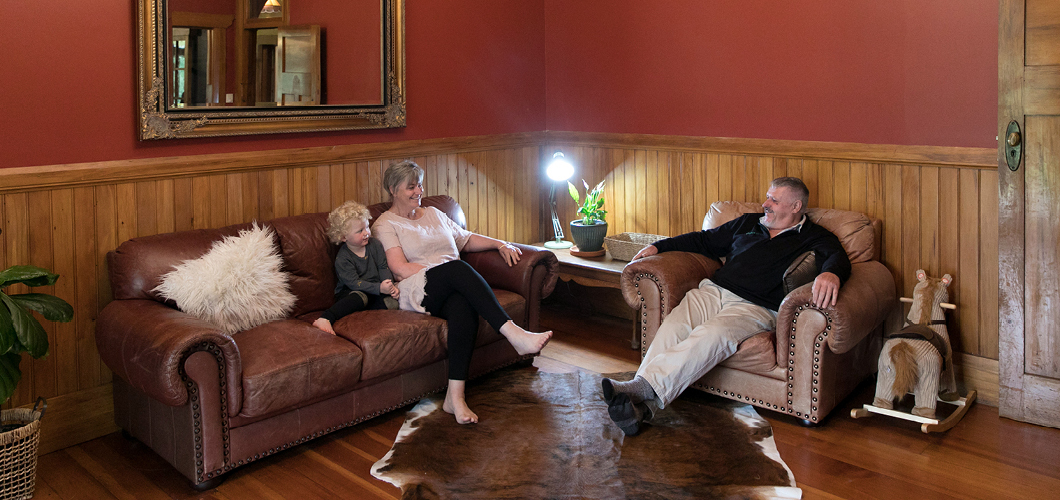 At one time Oruanui was bigger than Taupo, a flourishing settlement built around a timber mill and the source of the wood taken to Taupo to construct the house. Those days are long gone and now, aside from the house, a marae, a small church and a cemetery are all that remain of the settlement.
Kim and Vicki fell in love with the house. Kim says its character and history won them over.
"All the wood panelling and ceilings, with the kauri, matai and rimu make the house delightful. Sitting back 200 metres from the road, and with trees established around it, you wouldn't know it had only been here 20 years. It fits in so well, as if it had been here since the day it was built.
"Studying the history of the house, which Jil and Gary researched and handed on, we found an amazing family connection. Gerard Ward was born in the house in 1933, back when it was still in Rawhiti Street. His
father was a local teacher and he spent his childhood in Taupo, eventually becoming an eminent geographer. Part of the story of the house is a detailed academic article that he wrote in the early 2000s tracing his personal
history and linking that to Taupo and the district. His story mentions that Professor Ward was influenced in his career choice by his geography teacher at Kings College Auckland, Ray Hogg. Ray Hogg was my uncle," says Kim.
After running motels in Taupo for the past 15 years, Kim and Vicki plan to establish blueberries on their new property.
To read more of the Lifestyle Collection magazine by click here.