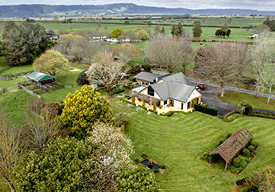 Property Express - Waikato dairy heartland
October 2019
Property in Waikato's dairying heartland for sale after 110 years.
A 127 hectare Matamata farm, held in the same family for 110 years, is for sale.
Peter Donnelly and Trevor Kenny, of PGG Wrightson Real Estate, Matamata, are marketing the property, on behalf of Paul and Shirlie Ryan.
Paul took over the farm from his father Garry and his uncle Tom in 1978, 68 years after his great grandmother Annie Ryan first purchased the Waharoa property, four kilometres north of Matamata.
"Annie was originally from the West Coast. She had been a successful hotelier in Wellington, though was widowed and bought four farms in this district, one for each of her sons. This was the one she gave to my grandfather, William Patrick Ryan, known as Bill. He was in his 20s when he started farming. He and his brothers broke their farms in together, by hand and with horses. This land had been part of the Firth estate, which was subdivided for sale before Annie purchased the land. Ti trees covered the whole area. They did a thorough job cutting them down. I've been
on the farm for 67 years and can't recall ever seeing a mature ti tree here, though occasionally when I have dug holes I have come across old stumps," Paul says.
Once they had tamed the land, the Ryan brothers became dairy farmers, taking their milk in cans by horse and cart to
the factory at Waharoa, that in those days produced cheese and butter. Only a few hundred metres from the farm, the site is now occupied by a large Open Country processing facility.
Garry and Tom took over the farm in the early 60s, though after a few years they had had enough of milking cows and ran it as a drystock property until Paul was ready to take it on, as he explains.
"I went to learn a trade when I left school. With my brothers, sisters and cousins there were 20 of us in the same generation who were the children of either Dad or Uncle Tom. Out of all of us, I was the only one that went
farming. My chance to do that came early. I was only 25 when the two of them decided they wanted to retire. With nobody else in the family keen to do it, that gave me the opportunity to jump in and buy the farm and I went for it," he says.
Paul quickly brought the property back into dairy, replacing the cowshed, pulling out all the internal hedges and building new raceways throughout.
"Dad and I subdivided it all with a 50 foot tape measure and wooden pegs. We didn't have GPS back then, though the boundaries were all square, so we were able to subdivide into 29 paddocks, all of 2.74 acres each.
"At that time, Rob Muldoon was kind to me. Not long after I took on the farm, his government brought in a scheme to increase stocking rates. We were moving from beef to dairy so were ideally qualified for that. It enabled me to stock up more than I could have done otherwise. We had the opportunity to take out government loans to increase stocking. If your stocking rate was maintained for a certain period, the loan was written off. We had already borrowed money for the stock so finished up using Muldoon's loan for fencing and to upgrade the races through the farm. We were able to increase productivity, so everybody was a winner," he says.
Productivity growth since then has been based on improved genetics and tightening up some farming practices.
"We were growing 12 to 14 tons per annum of dry matter. We put in two bunkers and a feed pad and went from between 120,000 and 150,000 kilograms of milk solids to producing 271,000 kilograms last year. Waikato University had a testing station on the farm which measured inputs and production and they calculated that we are producing 22 tons of dry matter per hectare per annum.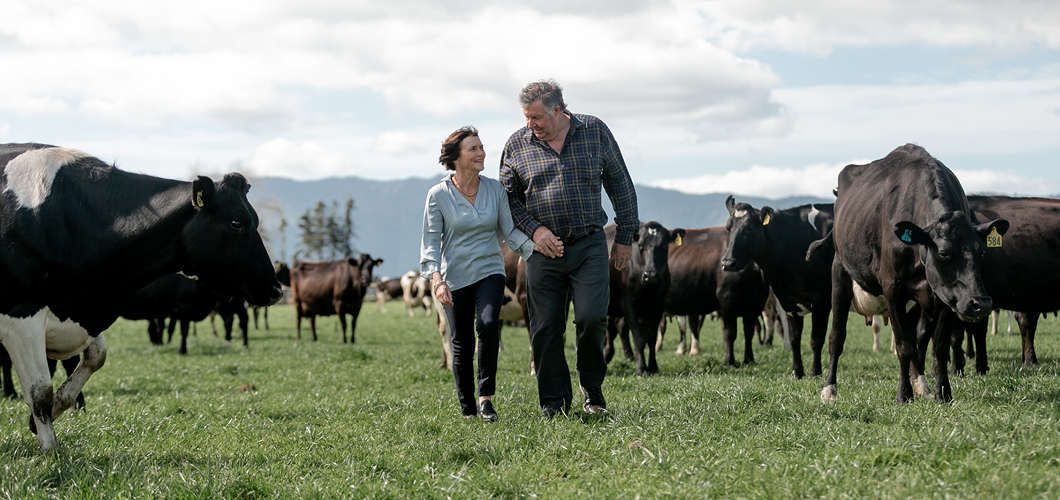 "Our volcanic ash over silt loam soils are important for that, providing good drainage capabilities, though also nabling moisture retention, allowing efficient utilisation of nutrients to make the grass grow," says Paul.
Peter Donnelly says, although the farm has been in dairy for the majority of its history, it also offers other options.
"Its excellent location in the heart of arguably the world's leading dairy region and expert husbandry through multiple generations in the Ryan family make this a trophy property. A new owner could continue utilising it as a high producing dairy unit, though its flat nature and strong fertility are also suited to cropping, which has become a more
prominent land use in the vicinity in recent years. This district also has a proud history as home to many thoroughbred champions and the Ryan's farm presents equally well for conversion to an equine facility," he says.
The farm is for sale by deadline private treaty with offers to be lodged by 14 November. To read more this property go to page 28 of the Property Express magazine by clicking here.