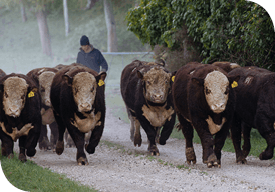 Weather and Outlook for Return Influencing Livestock Markets
June 2019
Sheep, beef and deer sales positive, bulls trending favourably; dairy livestock sales sluggish.
In autumn livestock markets, sheep sales began strongly, particularly in the South Island, with excellent pricing and attendance at on-farm sheep sales early in the season. Sales of sheep in the fine wool categories were especially notable.
However, as the season progressed the country became drier, causing serious impact in several North Island regions. Hardest hit was the King Country where some locals suggested it was the region's driest for 50 years. As a consequence much stock sold in saleyards across the rest of the North Island ended up going to the East Coast or Hawke's Bay, where warm, moist, perfect growing conditions made for one of the best seasons ever, enabling farmers to carry all stock through and holding off selling to the works until late autumn.
Although conditions improved with some rain in those North Island regions where it had been driest, subsequent grass growth was superficial and winter feed is likely to be patchy.
In the South Island the focus was on selling store lambs, with stock from Southland and Otago heading to finishing farms in Canterbury. Demand for lamb has strengthened on the back of confidence in the overall outlook and rising schedules for late winter and early spring. Stock numbers going through South Island sales are on par with recent years and autumn rates of grass growth suggest little pressure for farmers to finish their stock at a particular date. Store lamb prices therefore remained firm through autumn.
In the South Island prices paid for calves between late March and early May dropped on average by $100 from where they were last year, taking the market to a level more realistically in line with schedule prices. Despite the correction, the market is still positive and vendors have been happy with the results.
South Island markets for adult cattle were a little more sluggish. Farmers are waiting for kill space, have not yet finished cattle they bought last year, or are intent on taking them to optimal weight. Longer term, the market outlook is positive for manufacturing beef, which lines up with prime beef projections.
Dairy livestock markets reflect the generally low morale and uncertainty in the sector. Through April and May stock prices dropped by 20 to 25 per cent, reflecting the lower volumes and inconsistent availability of feed conditions. After dairy herds have settled in early June, and as winter progresses, those who have decided to leave the sector will already have done so, and anyone who has quality stock to sell through that period should meet with a positive reception in the market.
Deer farmers, meanwhile, are prospering, positioning their venison and velvet on the world stage. They were busy selling weaners through the autumn, when demand outstripped supply, and those farmers specialising in finishing deer fell short of the stock numbers they sought. As land use change around carbon credits becomes more prevalent, deer farmers have identified a niche for their stock to survive and thrive on country shared with trees, under management plans that would not suit sheep and cattle, further enhancing their positive outlook for overseas markets.
This year's bull sale season commenced in mid May. On-farm sales received greater emphasis and patronage than the national sales that marked the start of the season. In the initial weeks, all breeds were well-received, with Simmental, Angus and Herefords all achieving better than expected results and high clearances. Expectations that there would be a correction were not fulfilled, at least not at the start of the season, as farmers continue to respond well to breeders' endeavours to keep on advancing genetics in ways that meet market demands.