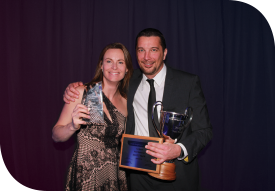 Northland salesperson tops national list for rural property
August 2015
Just two years into his real estate career, Northland local, Scott Tapp, has reached the top, out-pacing a number of seasoned veterans nationwide to win PGG Wrightson Real Estate's prestigious Rural Salesperson of the Year award.
Scott, who is based in PGG Wrightson Real Estate's Whangarei office, won the award at the company's annual conference in Wellington this week. Northland regional sales manager for the company, John Duder, says it is an incredible achievement.
"To go from complete rookie to number one in two years is massive. To do that in a region where we do not traditionally have the highest value rural properties is truly exceptional. Scott's knowledge of the agri-industry is the basis of his success. Our business is about bringing buyers and sellers together, and Scott has absolutely made that his mission. He has shown a hunger to learn, and has put those lessons into practice extremely well.
Along the way, he has achieved some benchmark values for his vendors, exceeding market expectations and setting records on numerous occasions. In particular, a series of Tomorata dairy property sales has been exceptional, where Scott's three most recent transactions ranged from $27,500 to $32,500 per hectare for land and buildings," he said.
Scott Tapp started selling farms in July 2013, taking just nine months to sell his first $10 million worth of property, for which he was named Real Estate Institute of New Zealand's 2014 Rural Rookie of the Year, across all real estate companies. That put him at number 22 of PGG Wrightson Real Estate's top earning rural property consultants. Now he has climbed to the top rung of the company's salespeople.
PGG Wrightson Real Estate General Manager, Peter Newbold, says Scott Tapp's achievement is probably unprecedented.
"To come into the industry from nowhere and out-perform highly experienced and extremely well-regarded professionals, most of who have built up two or three decades of selling farms, is phenomenal. Winning the respect of farmers, sufficient for them to trust you with such a critical business transaction, requires a high degree of integrity and an extensive amount of hard work. This is not a business where success comes easy. To achieve what Scott has done while still in his thirties is truly inspirational," he said.
Scott Tapp says he owes much of his success to wife, Victoria.
"Rural real estate can be seasonal. When things are busy, it can be extremely busy. In order to stay in touch with my vendors and sellers at all times, I decided to take on Victoria. As well as qualifying as a licensed seller in her own right, she is also able to work as my personal assistant, which has proved to be the best possible way to ensure our customers are always looked after. We complement each other's strengths, which is a great way to be, and I would not have made number one nationwide without her support. Victoria is as passionate about real estate as I am, which has seen her achieve some great results too," he said.
Born and raised in Northland, Scott Tapp grew up dairy farming. Prior to joining PGG Wrightson Real Estate, he worked as a rural professional for Ballance Agri-Nutrients and RD1. In his present role, he focuses mainly on rural real estate in the greater Rodney and Kaipara regions. He and Victoria live in rural Warkworth with their two young children.
Further information contact:
Scott Tapp, 021 418 161
or
John Duder, 027 281 0654